As an Amazon Associate, Den of Laptop earns from qualifying purchases.
Gaming laptops are an ideal compromise between the raw processing power of a PC and the portability of a smartphone. Regrettably, not all laptops include mux switches. With the genuinely excellent option that mux switches provide, one would expect that all manufacturers would use the feature in their laptops. Still, not even the most recent modern flagship releases include mux switches.
Being an enthusiast gamer, I struggled to select the best gaming laptop for endorsing these games. With my squad, I researched and surveyed the best available mux switch laptops to take the gaming session to another adventure. We will discuss what mux switch laptops are and how they work in the preceding section of this article. However, before that here are the best mux switch gaming laptops.
MUX Switch Laptops (2023)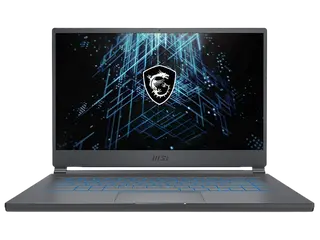 On top of the list is the MSI Stealth 15M, which features a sleek carbon grey chassis with a wide hood that conceals only the MSI logo in black. It's basically understated and stylish. Despite the MSI Stealthslim profile, the keyboard is quite comfortable, providing substantial feedback. When I type on the keyboard, I see that the deck flexes. The keyboard only includes one RGB zone, which is unusual for a product at this price.
The 15M has a variety of connectors that allow gamers to connect accessories while simultaneously utilizing them for schoolwork or professional duties. On the left side of the deck, there is a microSD card reader, a charge port, a regular USB 3.2 Gen 1 port, and a 3.5mm headphone jack.
You may adjust the single zone of color to any hue you desire and even employ patterns like Breathing using the Mystic Light option in the MSI Dragon Center program. In the Laptop Mag battery test, the Stealth 15M battery lasted only 3 hours and 41 minutes, which is much less than the typical mainstream gaming laptop. It was also surpassed by the Triton 300 SE and TUF Dash F15.
The 84-key keyboard features customizable single-zone RGB lighting via the Dragon Center app. While single-zone lighting limits your creativity, it does add a gaming aesthetic and feel to an otherwise standard-looking laptop.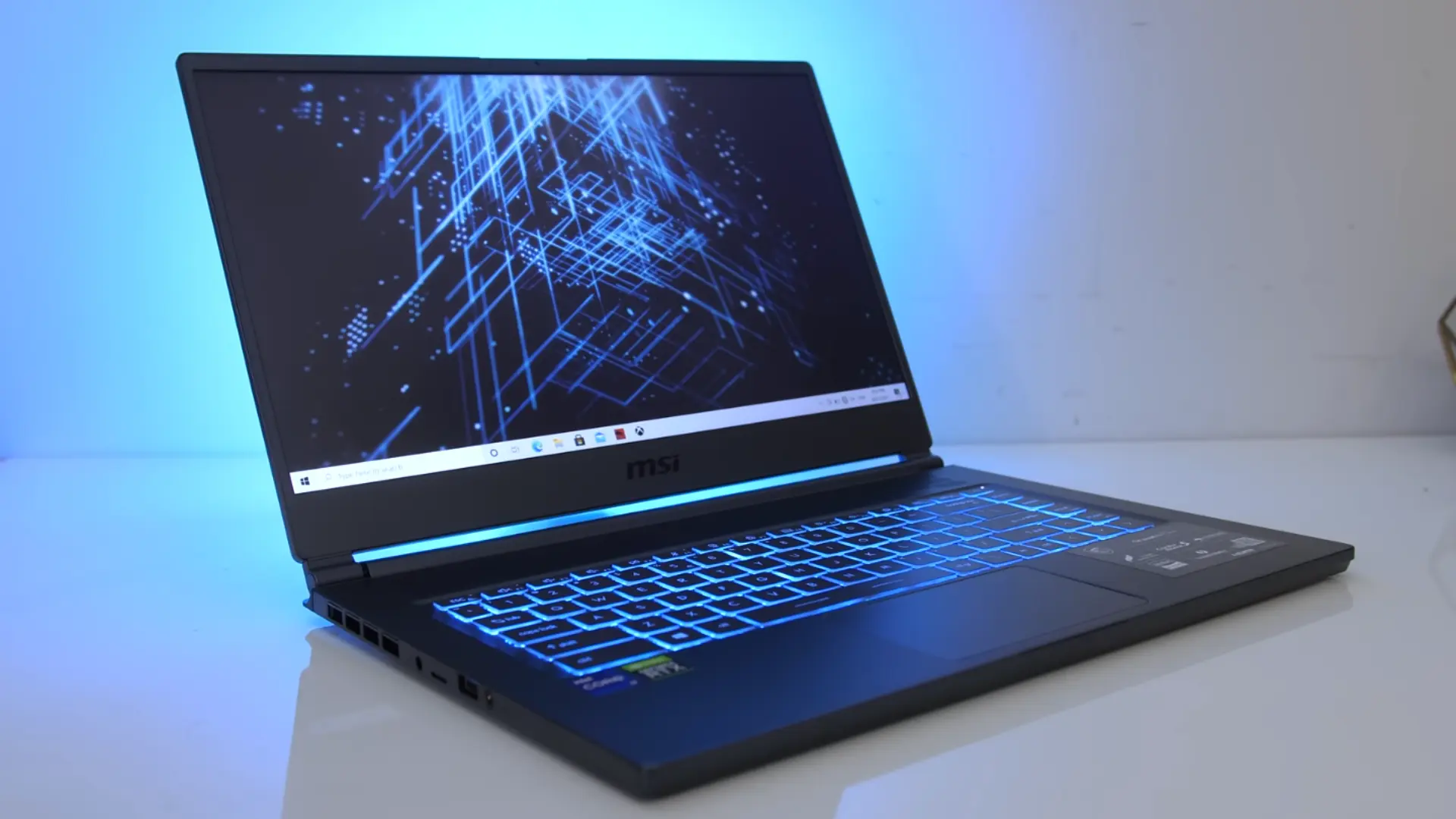 Unfortunately, the 15.6-inch, 1920 x 1080-pixel. Has a 144Hz display on the MSI Stealth 15M appears to be of inferior quality to the displays on several budget gaming laptops of the same size. And that's bad news for a laptop that's dangerously close to reaching the $2,000 mark in retail price.
The machine has Nahimic audio software, which includes presets and audio upgrades for voices, bass, treble, surround sound, and volume stability. The software is accessible for both Mac and Windows. Unfortunately, the program does not improve the sound quality of the speakers, even if it does alter their output.
PROS
Performance and graphics are excellent.
Slim and graceful design
Convenient keyboard
CONS
Battery life is insufficient
The display is dim and lifeless
The 15M checks all of the boxes when it comes to gaming laptop specifications. It is powered by an Intel Core i7-11375H 11th generation processor, which is included in the price. In conjunction with that, an Nvidia GeForce RTX 3060 Laptop GPU with 6GB of GDDR6 is used. It comes with 32GB of 3200MHz memory and a 1TB NVMe solid-state drive, among other features.
---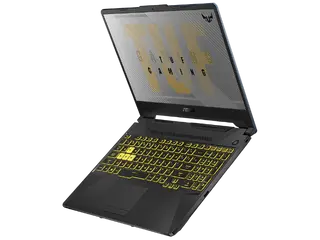 The ASUS laptop can run for several days at temperatures as high as 49 degrees centigrade. This signifies that this laptop is capable of withstanding extreme temperatures. The ASUS TUF Gaming laptop continues to operate at a shallow temperature of 32 degrees Celsius. This remarkable capability enables these laptops to be transported through frigid areas worldwide while maintaining their efficiency.
With regards to the design, the ASUS TUF laptop comes equipped with a 15.6-inch 144Hz Full HD IPS-Type Display with a maximum screen resolution of 1920 x 1080 pixels, a 3200MHz memory speed, an AMD Ryzen 5 4600h processor (up to 4.0 GHz), an NVIDIA GeForce GTX 1650 4GB GDDR6 graphics card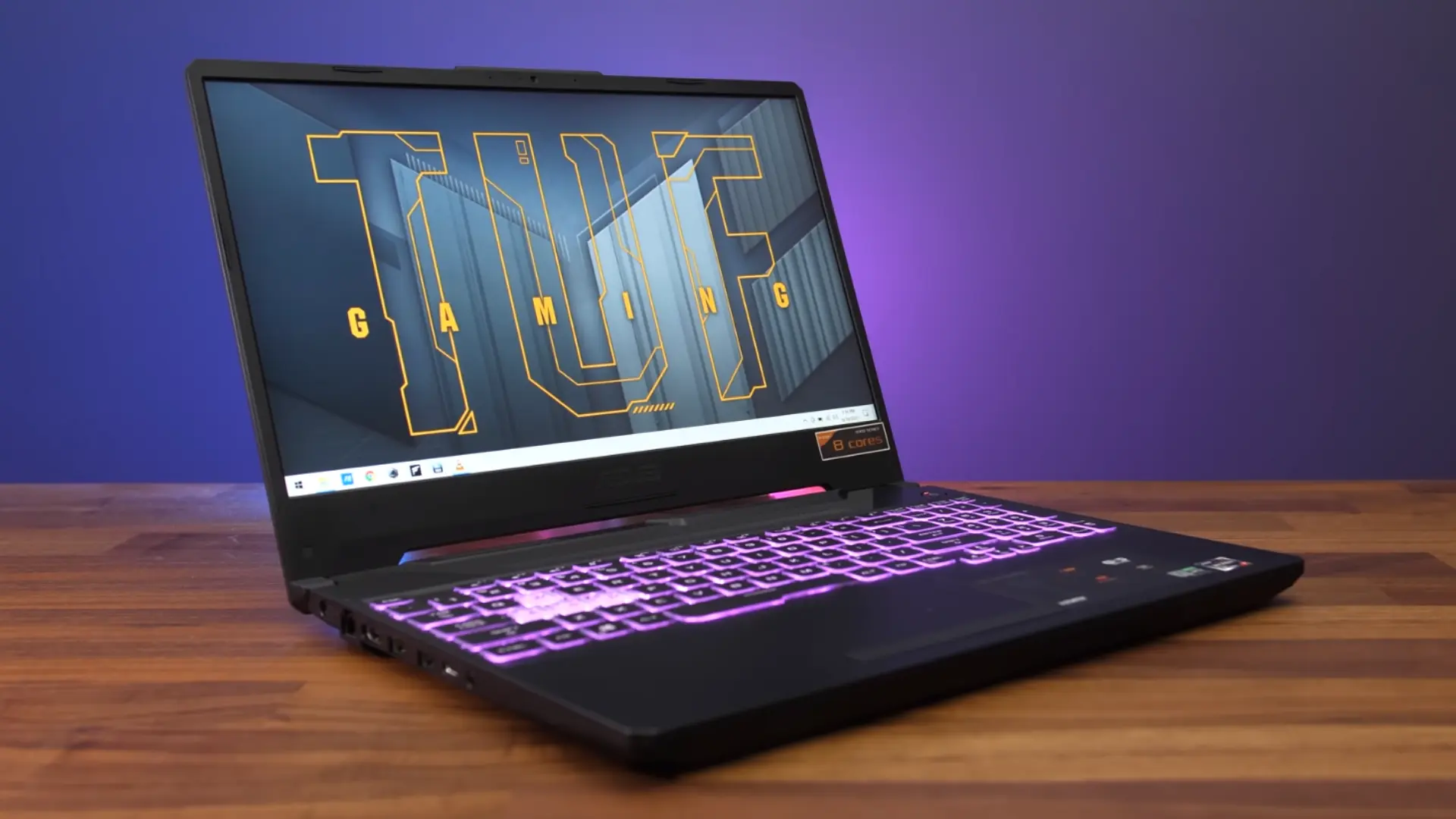 TUF gaming laptops are ideal for travel by trains, aircraft, or automobiles, as they resist the rigors of travel without shifting or losing performance. The laptop survives prolonged exposure to up to 95% humidity levels. TUF laptops are to survive the elements, even when traveling through tough and damp locations.
TUF Gaming laptops withstand daily abuse such as hits, unexpected falls, and bumps. As a result, users may carry it around on their shoulders with less stress and worry. Two enhanced speakers with four cut-outs blast rich surround sound for theater-quality audio when used with a stereo headset.
PROS
Expansion possibilities
Added SSD Slots
Remain calm in the face of danger
Expandable RAM and Convenient travel
Decreased fall-related harm
CONS
Available only in the SSD slot
Severe Wi-Fi issues
Overall, performance determines a gaming laptop's fate, and this current incarnation of the TUF Gaming brand can raise its head high enough. Essentially, it will run whatever game you throw at it, and that's on the highest settings, with everything looking amazing. Asus has done an excellent job improving the system, with the 240Hz display being the standout feature. It looks fantastic and is ideal for high-framerate games.
---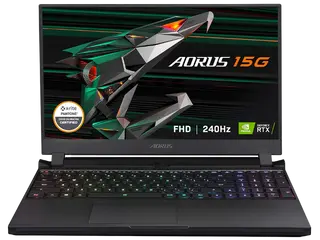 If I say this one is a little overhyped, it's something truly worthy to invest at this price. It is one of the first gaming laptops to incorporate Nvidia's RTX 3070 graphics card into a mobile form factor, with the Gigabyte Aorus 15G XC. Of course, it's a whole system and more than just a vehicle for that one component, but for gamers, the standout component is the next-gen graphics card. The Aorus 15G is reminiscent of a more typical gaming laptop, but with increased thickness to allow for adequate cooling and ventilation of the components.
An excellent machine if all you want is 60 frames per second (and frequently more) in most of your games without adjusting many settings. Achieving this for less than $2,000 is a commendable feat. However, if you're not as concerned with mobility and a thin form factor as Gigabyte's Aorus 15G, MSI's GP66 Leopard pushes the RTX 3070 even further. Its thicker, heavier chassis provides the chip with additional headroom for improved game performance and graphics-intensive applications like deep learning.
If you're looking for a strong refresh rate in CS: GO and Valorant, you'll have no problem with the RTX 3070, which has a high chance of hitting 240Hz in these games. The color reproduction, as well as the viewing angles, are superb, and the top and side bezels are thin.
Despite the fact that we've been spoilt by some laptop manufacturers' decision to pack a mechanical keyboard into their sleek designs, the chiclet style seen here has a lot to offer. With this option, the machine's breadth is increased and layout cramping is eliminated.
PROS
A sharp, color-accurate display
Virtually no bloatware
Consistently fluid gameplay
It is not excessively loud or scorching.
CONS
Awkward nasopharyngeal webcam
The absence of a Thunderbolt port
Although the touchpad is a realistic choice, as a gamer, you're going to want to use a mouse the majority of the time. The good news is that the Aorus 15G comes with a slew of USB ports, including two USB Type-A connectors on the right side next to the solitary USB Type-C port.
---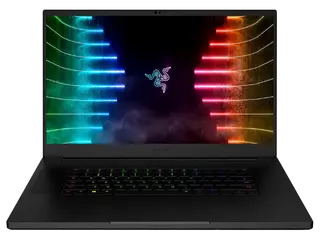 Coming to another hit gaming laptop, the bigger keycaps and laser-cut speaker grilles found on this Razer Blade 17 are standard across all Razer 2023 models. With a 1080p Windows Hello webcam instead of a 720p one, these sport the same fingerprint-resistant coating as the Blade 17's late-2020 model.
The AU Optronics in Razer's Blade 17 runs at 1080p at 360 Hz. Along with that a 4 IPS screen as Asus's Strix Scar 17 G733QS. As a result, the viewing experience on these two computers is quite similar. This panel features complete sRGB coverage, lightning-fast response rates, and a reasonable contrast ratio of over 1000:1, making it ideal for editing and gaming. Its characteristics are identical to those of the 300 Hz Sharp panel used on last year's Blade Pro, meaning that consumers are just paying for the slightly quicker refresh rate that the panel provides.
Additionally, a 165 Hz 1440p (QHD) monitor with complete sRGB coverage and a glossy 4K touchscreen panel with a full AdobeRGB range are available. Aside from that, the latter should be more visible in low light than the 360 Hz variant.
As of today, users have the option of selecting either the 11th generation Tiger Lake-H Core i7-11800H or the Core i9-11900H processors, which replace the 10th generation Comet Lake-H processors that were available last year.
Apart from the apparent performance boost, the new CPUs provide native PCIe4 and Thunderbolt 4 capabilities. The following features are supported: resizable bar, dynamic boost 2.0, and whisper mode 2.0. No matter how fast the screen is, the matte display is amazing, as are many other Blade laptops I've tested. It's quite well-done, with vivid colors and excellent contrast.
PROS
Outstanding QHD performance
It remains one of the best keyboard/trackpad combinations
CONS
Inadequate battery life
The USB-C charging is at 54W
I found that the Blade 17 I tested was perilously close to being the best of the best, and it showed in practically every application I tested it in. The 14-core Intel Core i7-12800H CPU powers this system. Other features include 32GB RAM, 1TB NVMe storage (with one M.2 slot remaining), and along with these the Nvidia's RTX 3080 Ti graphics chip.
---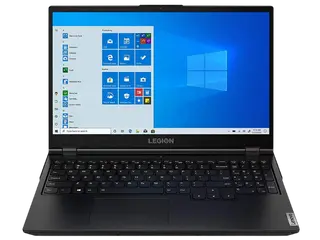 This laptop is overflowing with supplementary delights, such as its TrueStrike keyboard. A numeric keypad and a complete row of function keys are confined to a small space on the keyboard. Along with that, it has a dedicated media key, but it's comfortable to use and well-organized. It also comes with a large, responsive trackpad. Moreover, the Legion 5 Pro features above-average speakers that are enjoyable to listen to, as opposed to the majority of gaming laptop speakers, which make me writhe in agony.
The display never ceases to surprise. Its 2,560 x 1,600 resolution produces a more detailed image than Full HD displays and other 1440p panels. I must add that, the 16″ diagonal is also a decent choice. It offers slightly more immersion and space than a typical 15.6″ notebook without the bulk of 17.3″ machines.
Lenovo's 16-inch Legion is 26.8 millimeters thick and 356 millimeters wide. It is a half-millimeter thicker and seven millimeters narrower than Lenovo's standard 15.6-inch laptop. These are excellent figures, and Lenovo has managed to cram the display into this relatively small chassis.
Talking about the input and manufacturing, it includes speakers that are adequate for media and gaming; they have a good volume and some decent bass. The mid-range is excessively muddy, and a headset would be preferable. Lenovo hasn't simply crammed a 16-inch display into a chassis designed for a 15.6-inch laptop; the keyboard is integrated alongside a number pad.
Due to Lenovo's 165Hz refresh rate G-Sync display, the high frame rates are more accessible to appreciate than on some other models. The games are responsive and visually appealing. According to the panel's specifications, it can reach 500 nits of brightness and is color-accurately certified by X-Rite and Pantone.
The Legion 5 Pro comes equipped with a 720p webcam that produces acceptable image quality. It features four-zone programmable backlighting, 1.5mm key travel, and 100% anti-ghosting. I had no difficulty adapting to the layout and feel of the game, both during and after gameplay.
PROS
Outstanding performance at an affordable price
Display with a wide 16:10 aspect ratio
RAM and storage capacity that the user can upgrade
Numerous ports
CONS
Considerably hefty at 5.4 pounds
512GB of storage quickly fills up
The Legion's tall display is of a high standard. Its 546cd/m2 brightness level makes it appropriate for most indoor and outdoor activities. When combined with a black point of 0.42cd/m2, this laptop produces a contrast ratio of 1,300:1, which is excellent for most indoor and outdoor scenarios.
---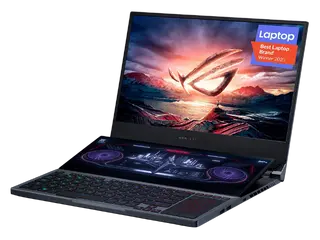 While most modern laptops offer light tones and simple designs, the ASUS ROG Zephyrus Duo is entirely industrial in appearance and would look right at home in a 1980's vision of the future. The touchpad is at the keyboard's right, and when you long press on the top left corner, it illuminates and doubles as a number pad. The RGB lighting swirls across the keyboard before settling on the recognizable colors associated with gaming gear.
The ScreenPad Plus functions as a fully functional secondary display with touch functionality. The two screens are the standout feature, and they are effortless. We'll discuss their capabilities later, but the notion is astounding, as is the laptop's ability to remain compact and portable despite housing the two monitors. The Duo is identical to last year's model, measuring 0.82 by 14.2 by 10.6 inches and weighing 5.3 pounds, making it equivalent to the size of many traditional gaming setups.
When you open the ROG Zephyrus Duo, the ScreenPad Plus automatically tilts 13 degrees. It offers a more angled view than the previous model, which was flat and fixed in place. The elevated ScreenPad would also naturally aid in cooling, even though there are no air vents beneath. With that, all that is required is contact with the top-mounted speakers.
It is one of the best for maximum productivity, video production, and gaming. When used for work purposes, mostly web browsing and typing with ScreenPad Plus enabled – the Zephyrus Duo's battery life lasted approximately 5.5 – 6 hours. We recorded 4.5–5 hours of Netflix streaming and a similar length while gaming. Thus, you can get a full half-use day, but it wouldn't hurt to have the power brick along in an emergency.
The laptop weighs a massive 2.48kg, and the bulky power brick adds another half a kilogram. If you plan to carry things on a daily basis, this is something to think about.
PROS
A legitimately useful second screen
Reasonably good gameplay performance
Attractive 4K display
CONS
There is no webcam.
It is quite costly
To summarize, this is an absolutely excellent gadget. It is an engineering wonder, providing a substantial performance boost over its predecessor due to the adoption of AMD and Nvidia RTX 30-series graphics, establishing it as the true shining light of the high-end laptop industry.
---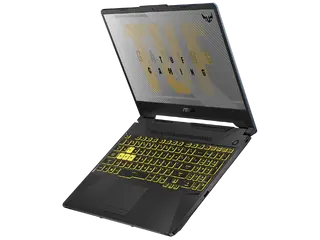 The Asus TUF Gaming F17 FX706HE gaming laptop is a budget-friendly gaming laptop with a large 17-inch screen and has gained much popularity all because of its price range and the display resolution. The TUF Gaming A17 laptop features a slightly curved screen that enables users to browse applications and play games without worrying about the resolution for magnification. The 1920×1080 display screen delivers sharper visuals and vibrant colors, enhancing your gaming experience's enjoyment.
While most gamers are unconcerned with the keyboard design, it is worth considering, particularly if you intend to use the laptop for other business tasks. As a first-time buyer, all you need to do is compare and determine what works best for you before investing your money.
The TUF Gaming A17 laptop features an excellent full-size keyboard that is robust and comfortable to the touch. The keystrokes are incredibly smooth and pleasant, enabling users to perform heavy tasks efficiently. It features two massive, powerful speakers with the highest possible sound quality. The TUF Gaming A17 has the finest sound quality of any gaming laptop I've ever heard.
The Asus TUF Gaming A17 includes a 1TB hard drive. It should be sufficient to keep all your saved games without the need for additional external storage for games or other stuff.
PROS
The large display is perfect for gaming.
Convenient and light
Reasonable price
CONS
The RTX 3050 Ti is incapable of handling some games well.
Inadequate battery life
Angles are the most prominent visual element throughout the design. The TUF Gaming F17 is brimming with 45-degree angles, lending it a decidedly edgy appearance commonly associated with modern gaming machines.
---
What Is a MUX Switch for a Gaming Laptop?
So, a gaming laptop has two GPUs: integrated graphics from the CPU and a separate graphics card. In computing terms, a dedicated graphics card is a more powerful graphics processor that one should always use while your laptop is performing graphically heavy tasks, such as playing video games.
On a gaming laptop, a MUX switch (multiplexer switch) connects the dedicated graphics card directly to the display, allowing users to enjoy the improved visual performance. The MUX switch, on the other hand, works physically, with data being physically transmitted to the display monitor.
Without mux switches, gamers are forced to reduce their laptop's graphic settings to maintain a consistent FPS (frames per second), but mux switches provide an alternative.
Buying Guide
All you need is a laptop with enough processing power to handle all of your selected topics without pauses or glares. Gaming laptops must meet or surpass the game's minimum requirements for this to be possible and this includes: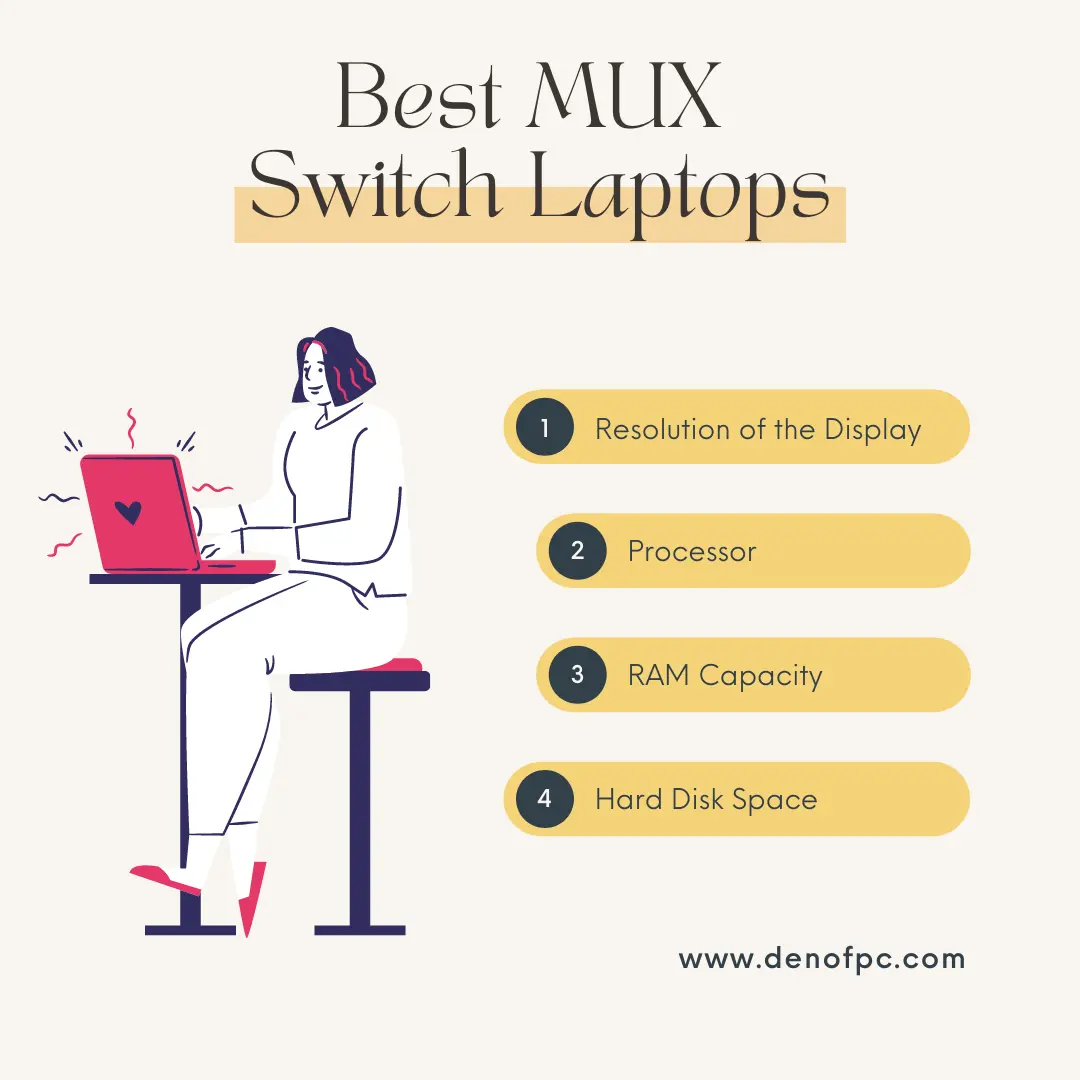 Processor
The type and speed of your processor will determine how well your game runs in the end. The seventh generation of Intel Core i5 CPUs should be your minimum goal, but you should always aspire higher. When paired with the appropriate RAM size, these processors have proven themselves over time and can handle AAAA games. When it comes to processing speeds, you should go for something between 2.5 and 4.0. Anything less will almost certainly result in pauses.
Resolution of the Display
A blurry or grainy display will highlight a fantastic game. Worse yet, it may cause you to strain your eyes. If you need to buy a gaming PC, make sure it has a high-definition monitor of (1920 x 1080 pixels).
RAM Capacity
When your machine runs out of memory, this program will shut down automatically. The least amount of RAM you should have was 8GB.
Hard Disk Space
Depending on the number and genres of games you play, a gaming laptop with plenty of memory is usually an excellent choice. We will not limit you to a certain amount of hard disc space because the number of games you can play at one time is entirely dependent on the type of gamer you are. In any event, heavy gamers should look for a computer with at least 512 GB of storage capacity.
Frequently Asked Questions
What is MUX switch GPU?
The MUX switch enables or disables the iGPU, allowing consumers to redirect all graphics rendering directly to the laptop display. Although this negatively influences the laptop's battery life, it significantly increases performance and reduces latency in games.
What Does MUX stand for?
A (MUX) is basically a network maneuver that permits one or more analog or digital input signals to be sent over the identical information transmission channel at the same time. Multiplexing mixes and transmits signals over a single standard media to maximize efficiency and lower communication costs.
How Advanced Optimus Achieves Maximum Performance?
NVIDIA Advanced Optimus is a development of NVIDIA Optimus, a game-changing innovation from the past. Before its creation, laptops were either powered by integrated graphics or by high-performance, power-hungry GPUs. NVIDIA GeForce RTX laptops are the most sophisticated and versatile laptops available, boosting work and play to previously unheard-of performance levels.
What exactly is a muxer?
In telecommunications, a muxer is an engine or equipment that combines objects such as signals. A muxer combines media elements — subtitles, audio, and video into a single output container such as mp4, mpg, avi, or mkv. The objective is to share a limited resource.
Final Verdict
To conclude our hunt for the best mux switch Laptops and after using them personally with our team; there are not many Mux switch laptops available in the market with good battery and processing speed. This is the point where many of these lack and drop out.
But in accordance with our research,
MSI Stealth 15M Gaming Laptop
ASUS TUF Gaming A15 Gaming Laptop
Lenovo Legion 5 Gaming Laptop
The MSI comes at first, as the leading one that features a slim and light design, which is complemented by a comfortable keyboard and a good port choice. And if gaming laptops were only rated on those criteria, we'd cheerfully recommend them, especially since it does a good job of getting you through medium-level gameplay. ASUS and Lenovo last longer than you'd like to utilize them. With tiny memory, antiquated CPU, and graphics. It has ports that are mainly incompatible with contemporary peripherals, which makes it stand out in the market.