As an Amazon Associate, Den of Laptop earns from qualifying purchases.
Can a laptop be a PC? Precisely Yes, it can be a PC but with certain limits.
Renovating your Laptop into a more enduring gadget is easy with a few amendments and the essential peripherals. The laptop is not fixed to the gaming setup. Instead, you can unplug the cables, and your laptop is back to standard specs. Firsts of all, we should discuss the benefits we will get by converting a laptop into a PC. Then, we will discuss how a laptop can be converted into a PC.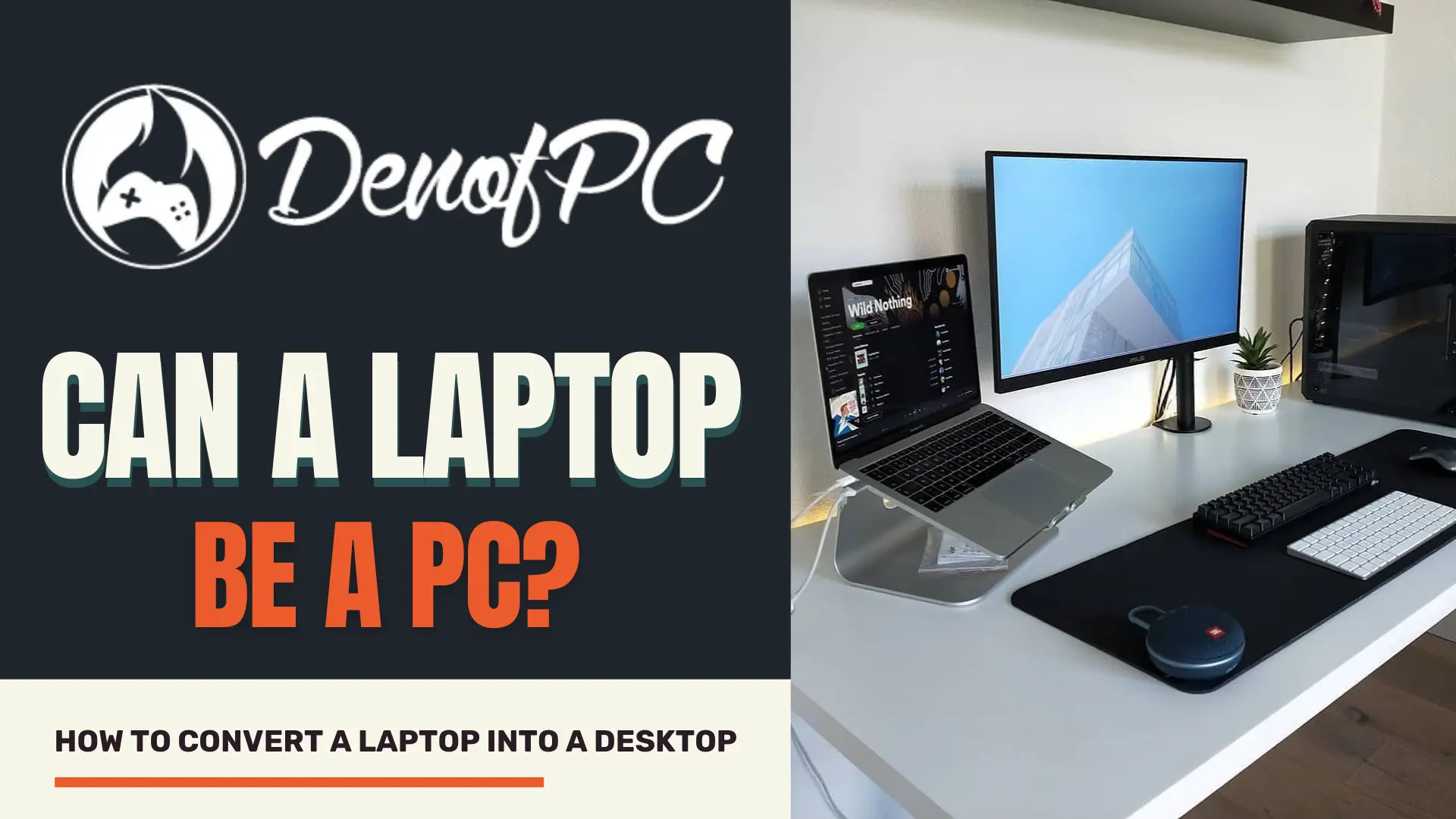 Benefits of Using Laptop as a PC
Before discussing how to turn your Laptop into a PC setup, let us look at some of its benefits.
Cost Minimization: You do not have to buy a new PC as the same Laptop will be used as a PC. The screen of the laptop can also be used as a second screen for improved production.
Lesser Space: This converted setup will take much less space than a full PC.
Less power consumption by this setup than a new PC
Plug-in/out: The key benefit is that you can bring your Laptop out of the system
Better Usability: Such a setup can help you in improving your body posture by which your body or neck pain can be minimized
How to Convert a Laptop into a Desktop
Accessories Needed
Along with Laptop and charger, you need the following accessories to make your Laptop a pc.
1. A Computer Monitor
The monitor is the most vital part of desktop setup; therefore, do you want to get it right? But you need to buy the compatible one as various choices are available in the market.
The monitor is a large screen that gives your eyes relaxation while watching movies and playing games. It's also possible that the screen of the Laptop and the external one are used simultaneously.
Ensure that the monitor is at minimum 24 inches diagonal-wise and Full HD in resolution. It also needs to have a minimum of 250 nits of brightness (better if its brightness is 300 nits) so that you can understand the content on the screen even if it faces straight sunlight or any other source of bright light in the room. Choose a monitor with at least one HDMI port, while two would be pleasant.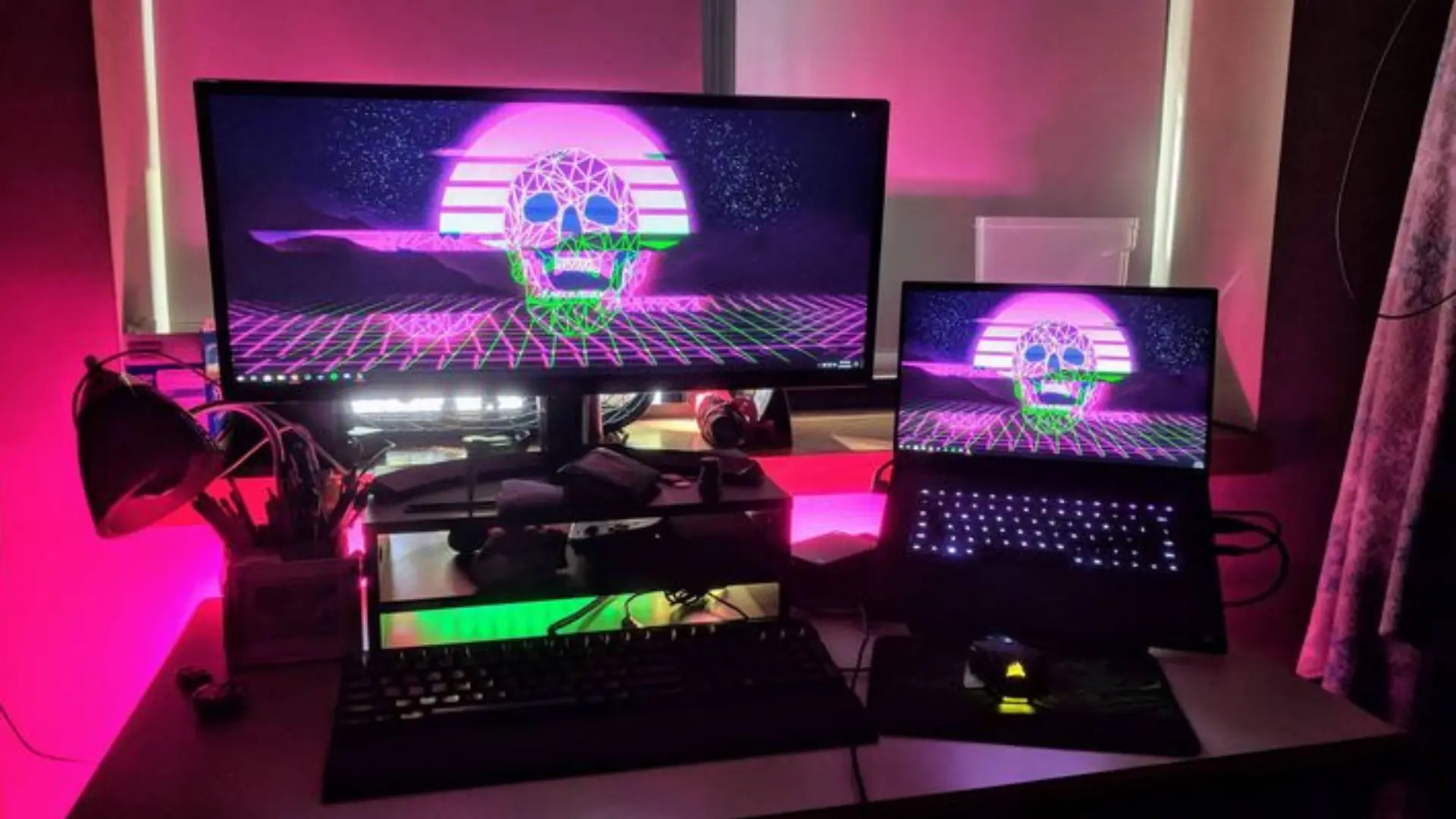 2. A Keyboard
It is a great benefit of converting laptops into PC that you can use a full-size keyboard. This keyboard is professional and assembled, with the keys having advanced responses. There are two types of keyboards. One is wires, and the other is wireless, but there is no performance difference. Anyhow the wireless may require a battery for its use. If Bluetooth is installed on the Laptop, then a wireless keyboard can be connected.
3. A Mouse
Most users of laptops are excellent at using a mousepad, but the external mouse is the best option to go. Plenty of mouse variations is available in the market, such as wired and wireless, with two or more buttons and multiple configuration options. You can choose a mouse with a trackball in a peripheral form best for your wrist and save much time while working.
4. Laptop Stand
A laptop stand can be used in its place as a monitor, keyboard, and mouse, dependent on the stand and what you desire. A stand keeps the Laptop in the space and improves distance for your neck and eyes. Access to keyboard keys becomes easy due to elevation and keeps the arms at ease.
If you are thinking of purchasing an external screen and keyboard, then a laptop stand would not be necessary.
A laptop stand elevates it over the desk and provides a solid base by which you can use an external screen and hide cables as well.
5. Laptop Dock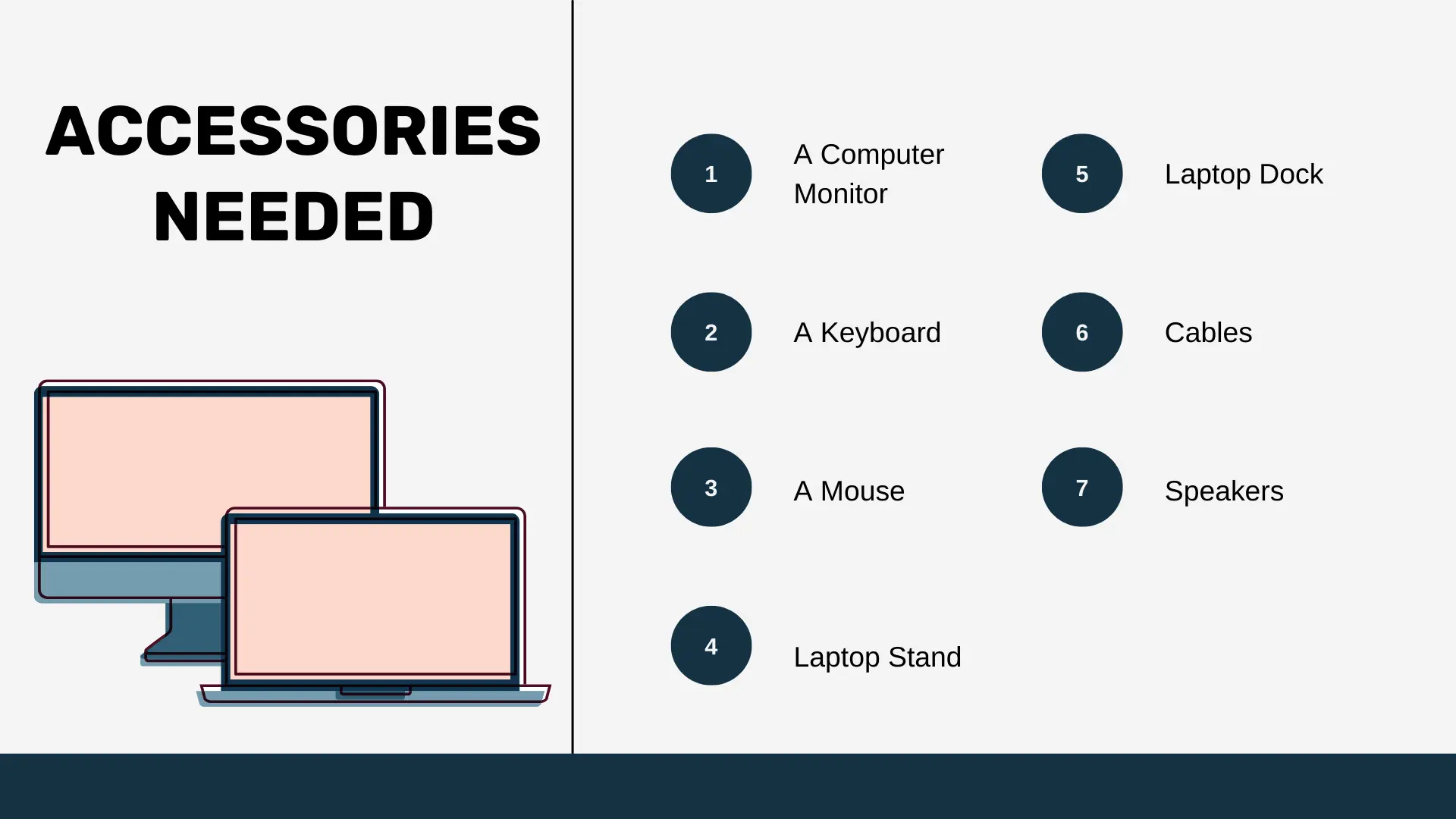 A laptop dock is a very professional and essential part of resolving connection problems. It is a basic thing while getting connected with a laptop. Various docks are available, but they must have power, audio jack, USB, and LAN port.
Now what you have to do is connect your Laptop with this dock and then all the remaining things with this dock to get connected.
There are thousands of laptop docks with different types of connections and different properties. Also, you must remember that not all types of docks get connected with all types of laptops, so you must check which dock is better for your company's Laptop. Also, these are not cheaper. So first, get well informed about the types of laptop dock, and after selecting a suitable laptop dock, you may purchase it.
6. Cables
Here is the easiest part of this prototype. It would be best to have some cables to connect the monitor, mouse, keyboard, and other peripherals. There are a lot of cables on the market, but you must get a cable and its peripherals that are compatible with your Laptop. Now, connect VGA, DVI, and HDMI. Then, link a desktop keyboard and external mouse from the USB ports given on your Laptop. If your Laptop doesn't have many USB ports, you can use a USB hub or USB passthrough Keyboard.
7. Speakers
If you want to go with the same sound used in your Laptop, you may not need this, but for the bolder sound, you have to buy a good set of speakers from a good company. Also, do some research before buying because there is a huge difference in the process of different companies. These speakers will add more sophistication to your setup. You can also connect AirPods to your laptop by Bluetooth if you have no plans to invest in speakers.
Connections Needed
1. Video Connections
A lot of laptops have only one video connection port available to them. The most common is HDMI which is available in almost every recent monitor display. So check for this in your monitor, and if available, you may need nothing for a video connection. All you need is an HDMI cable to connect to the monitor.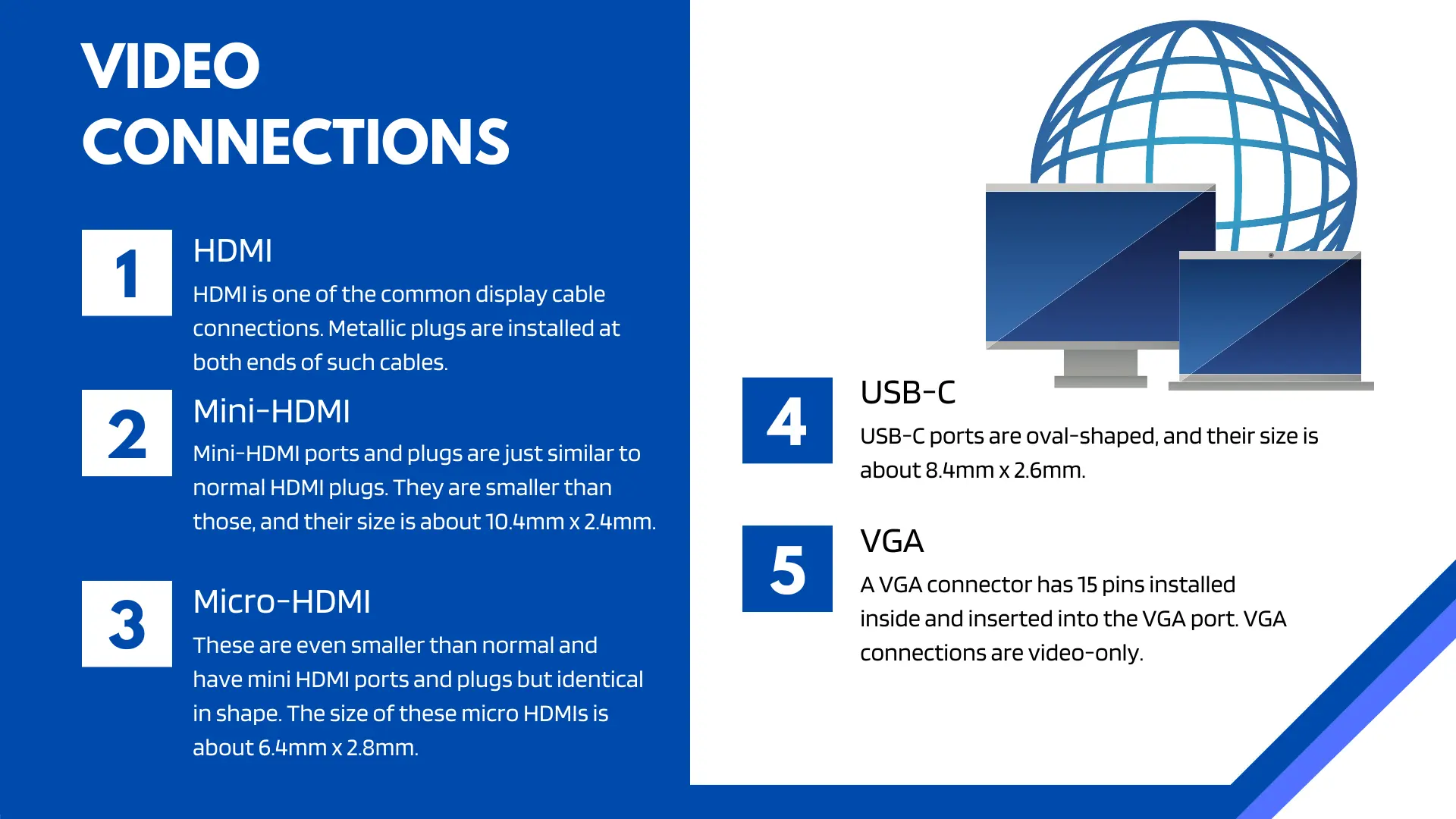 HDMI is one of the common display cable connections. Metallic plugs are installed at both ends of such cables. Here we need a plug with dimensions of 14mm x 4.5mm and about two cuts on the bottom side of the plug.
Mini-HDMI ports and plugs are just similar to normal HDMI plugs. They are smaller than those, and their size is about 10.4mm x 2.4mm.
These are even smaller than normal and have mini HDMI ports and plugs but identical in shape. The size of these micro HDMIs is about 6.4mm x 2.8mm.
USB-C ports are oval-shaped, and their size is about 8.4mm x 2.6mm. If the monitor doesn't have a USB-C port, but the Laptop has, you have a USB to HDMI adapter and one HDMI for the monitor's Connection to your Laptop.
A VGA connector has 15 pins installed inside and inserted into the VGA port. VGA connections are video-only. These are naturally used on older and low-resolution monitors. But you to purchase a VGA – HDMI adapter and connect to the VGA port of the modern computer.
2. Audio Connection
Audio connections are the easiest connections. It is so because every Laptop has a headphone jack included in it. Please find it and make a connection with your headset or speakers. For a wireless connection, you may first get a Bluetooth speaker or Bluetooth headset and then connect with the setup using Bluetooth available on your Laptop. Unfortunately, if your laptop audio jack is broken or unavailable, you must rely on a USB adopter to make the Connection possible.
3. Network Connections
If you are making your setup at a place using a Wi-Fi network, you only have to connect as usual. But if you want an Ethernet cable to get connected to the network, you may need an Ethernet cable and its connecting port. It is so because many new laptops are not supporting the Ethernet cable connection because their main purpose is a thinner and lighter design. For this purpose, you have to use a laptop dock or a USB adopter to get a network connection.
4. USB Devices Connection
As we are connecting a lot of USB stuff simultaneously and a laptop may have 2-3 ports available for connections at one time, you may find yourself running out of business very quickly. As a cheaper solution, I suggest that a USB hub could serve the best for many connections. Connecting the basic peripherals like keyboard, mice, etc., will slow down your speed. You must remember that you should buy the USB hub, which is 3.0, and you must connect the USB hub to the port 3.0 for maximum speed utilization.
Get Everything Up and Running
When everything is available at your table, it's time to assemble them. It is very important to get connected to everything before getting started. Also, do not be in a hurry while making all the connections. When you put all the setup components in a suitable place and all the connections are viable, it's time to start the setup.
Now start your Laptop and make sure that the monitor is also powered ON. The PC will adjust all the settings smoothly most of the time, but you first have to log in to your account. If it seems nothing is going to work, you must wait a few minutes after that to double-check the cables to see if they're all properly connected. If the problem is persistent, you go into the system's settings and check the Display is available in the left pane. Now scroll down to the tab 'Multiple displays' sub-heading and click on 'Detect.' If you still have glitches, it will likely be a broader issue. Only in some emergency cases do you need to reset your PC.
Can a Laptop be a PC? – Conclusion
Can a laptop be a PC? Yes, we have done that. Now, it all depends upon you; if you don't want portability, your Laptop can be a PC. Limitations are there, but most users consider desktops for applications such as CAD, gaming and video editing, etc. You need a dock, keyboard, and mouse, and there you go. You can now enjoy all benefits of the PC bonus is portability.