As an Amazon Associate, Den of Laptop earns from qualifying purchases.
Having a laptop without a built-in webcam can save you from complications like thick bezels, small screen sizes, and different security issues. Also, if you want to stream, using a laptop's webcam will not be wise because of their low 720p quality.
However, selecting an ideal laptop that doesn't have a webcam is a really difficult task and can take you hours to decide. Therefore, for your convenience, I bring you the list of the best laptops without webcam in 2023; I compiled this list after benchmarking all the different brands and specs on the market.
Best Laptops Without Webcam (2023)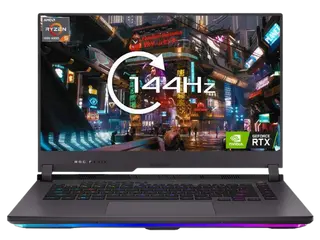 Asus seems to be leveling up its gaming hardware at almost every price point, and the ROG Strix G15 is topping them all. First, let's just appreciate how good this laptop looks even when comparing it to Pricer ROG laptops. There is an LED strip that runs across its bottom, giving it a premium look.
Furthermore, with the Asus aura sync technology, you can change the color and the behavior of lights quite a bit Aswell. Since it's a laptop without a camera, you will get thin bezels around its 15.6-inch FHD display. Also, this display screen runs on a 144Hz refresh rate giving you a smooth and visually fluid experience.
The ASUS ROG Strix G15 got pretty solid internals. It is rocking an AMD Ryzen 9 processor combined with RTX 3070 and 16GB DDR4 RAM; that all means when this powerful machine turbos, even the titles like Warzone and GTA 5 easily pull in a smooth experience on high to ultra-display settings.
All these high-end internals cause the device to heat up quite a bit, but Asus's thermal solution is excellent to keep it silent even under heavy loads. You can barely feel any warmth sneaking up on the Keyboard, and it dissipates heat quickly to ensure your smooth all-day-long gaming experience. Moreover, you also get a fast, responsive keyboard giving outstanding performance in FPS gaming.
PROS
Beautifull Asus Aura Sync RGB lighting
Fast and fluid 144Hz visuals
Plenty of gaming power with RTX 3050Ti
The efficient heat dissipation system
Extra SODIMM slot for RAM upgrade
Asus smooth and ultra-responsive keyboard
The ASUS ROG Strix G5 is a good on-the-go gaming companion that also is super productive. So, suppose you are looking for an affordable laptop without camera that also provides you excellent gaming and day-to-day productivity task handling power. In that case, the ASUS ROG Strix G15 is the one for you.
---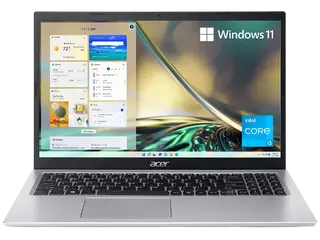 Coming next is the Acer Aspire 5, which is a decent business and professional working laptop. It's portable and feels well built, with a decent port selection that should be enough for most users. Also, the Aspire 5 keyboard and trackpad are super quiet, and feel comfortable when working on documents and business projects all day long.
The Acer Aspire 5 is pretty quick to boot and launch applications thanks to its amazingly fast NVme 128GB SSD. Its 11th gen i3 processor gives you more than enough power to handle versatile productivity tasks. Also, I love that you can boost this processor up to 4.1GHz for extra firepower.
Moreover, this unit has a visually stunning 15.6-inch FHD display with an 82.5% screen-to-body ratio and narrow bezels giving you more viewing area and a near borderless display. Also, the Aspire hinge lift gives you a comfortable typing experience, increases air circulation at the bottom, and enhances the sound quality.
You will experience top-quality studio-like sound quality with its dual stereo speakers. Furthermore, its Acer purified voice technology cancels out the background noise and improves speech accuracy so you can record your voice and stream with confidence. Thanks to its built-in Alexa feature, you can ask any question and control this laptop using voice commands.
PROS
Soft and quiet Keyboard and trackpad
Quick boot with super-fast NVme SSD
Near borderless 15.6 inches FHD display
Convenient hinge lift design
Acer purified voice speech accuracy
CONS
No Thunderbolt port available
If you don't mind playing games with medium display settings, the Acer Aspire 5 should be good for around 40 FPS. Also, this unit, like most computers without a camera can perform smoothly and fast in your day-to-day productivity task that includes media consumption, video editing, and surfing the internet.
---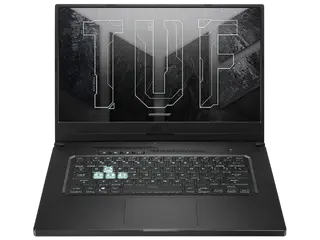 The Asus Tuf gaming series is all about fantastic performance without breaking the bank, and it's super popular among gamers. This gaming laptop puts all the processor and graphical power in a super-slim chassis, so it's quite portable, and you can carry it around with you anywhere you go.
Although it's sleek and slim, the TUF Dash 15 is a durable machine. Also, in order to earn the name TUF, this laptop passed all the MIL-STD 810H tests meaning that it can withstand accidental bumps, fall impact, vibration, humidity, and much more. This laptop's matte black finish surface looks classy and sleek.
No matter what game you play, the Asus TUF Dash 15's latest 11th-gen CPU and RTX GPU will give you a smooth and lag-free experience without breaking a sweat. Moreover, the RTX 3050 Ti got 4 GGB DDR6 VRAM and got Dynamic boost 2.0 for the extra power during high graphic-dependent applications.
The feature I love the most is its 144 Hz refresh rate display panel that allows you to game at pro speed. In addition, the 15.6-inch display comes with an adaptive G-sync feature that synchronizes the GPU to the Screen refresh rate so the user can experience less lag, low stuttering, ultra-smooth, and fluid visuals.
PROS
Ultra-portable form-factor
Fluid and smooth gaming with G-sync
Dynamic boost 2.0 75W
Military-grade toughness
Thunderbolt 4 port support
Overall, the ASUS TUF Dash 15 is a powerful gaming laptop with functionality, ultraportable form-factor, and durability, all at a pretty affordable price tag. Moreover, this unit got amazing battery life so that you can play all day long without worrying about charging, making it one of the best laptops without webcam on the market.
---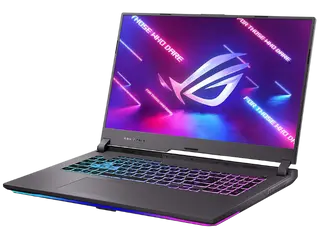 Next on our list is the Strix G17 from the ASUS ROG gaming series laptops. This gaming laptop provides immense gaming performance that rivals your desktop pc. Also, I like the way the Strix series laptops look, especially in a dark room; the LED glows up and gives you an aesthetic feel.
Moreover, the port selection on this machine is quite amazing, and you got three USB A, USB C, HDMI, and an Ethernet port. In addition, it allows you to connect a dual display with its USB C and HDMI 2.0 ports. The keyboard layout of G17 is excellent; you get super comfortable and RGB lighting keys.
The ASUS ROG Strix G17 is rocking an RTX 3060 with 4GB DDR6 VRAM, so you will have all the power to do GPU-dependent rendering and AAA titles gaming. Furthermore, if you need more power, you can use its ROG boost up to 1795MHz at 80W and Dynamic boost 2.0 at 95W.
Since a GPU like RTX 3000 series generate a lot of heat, The ROG Strix G17 uses ROG thermal efficient cooling system that dissipates all the heat with its Grizzly metal thermal compound. Its 17 inches huge screen offers a 144 Hz refresh rate, so the user can enjoy smooth and fluid gameplay without missing a frame.
PROS
Versatile input/output support
Huge 17 inches screen
Dual display support
GPU ROG and Dynamic boost 2.0
Excellent ROG thermal cooling system
CONS
Low speaker amplification
Not only does The ASUS ROG Strix G17 deliver great performance, but it's also quite versatile. Its powerful Ryzen 9 processor lets you do your productivity work smoothly and handle processor-dependent applications quickly. Also, this laptop without camera got a huge 17-inch full IPS screen which is ideal for content creators and graphic designers.
---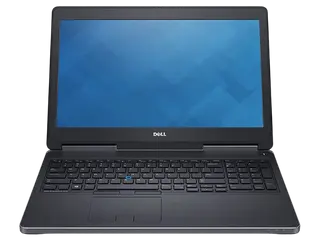 The Dell Precision 7510 is a super-fast and upgradable professional working laptop. Dell's 15.6 inches laptop supports video editors, Graphic designers, and media consumers, thanks to its highly upgradable specs. Also, this laptop has been in my personal use for more than 7 months now, and I love how lightweight and portable this convenient laptop is.
In addition, the Precision 7510 got excellent internals, with its core i7 2.7 GHz processor that can easily handle any processor-hungry task you throw on it. This unit offers long battery timing of 8 hours during productivity tasks like web surfing, reading, writing, and consuming media so that you can enjoy cordless use anywhere you want.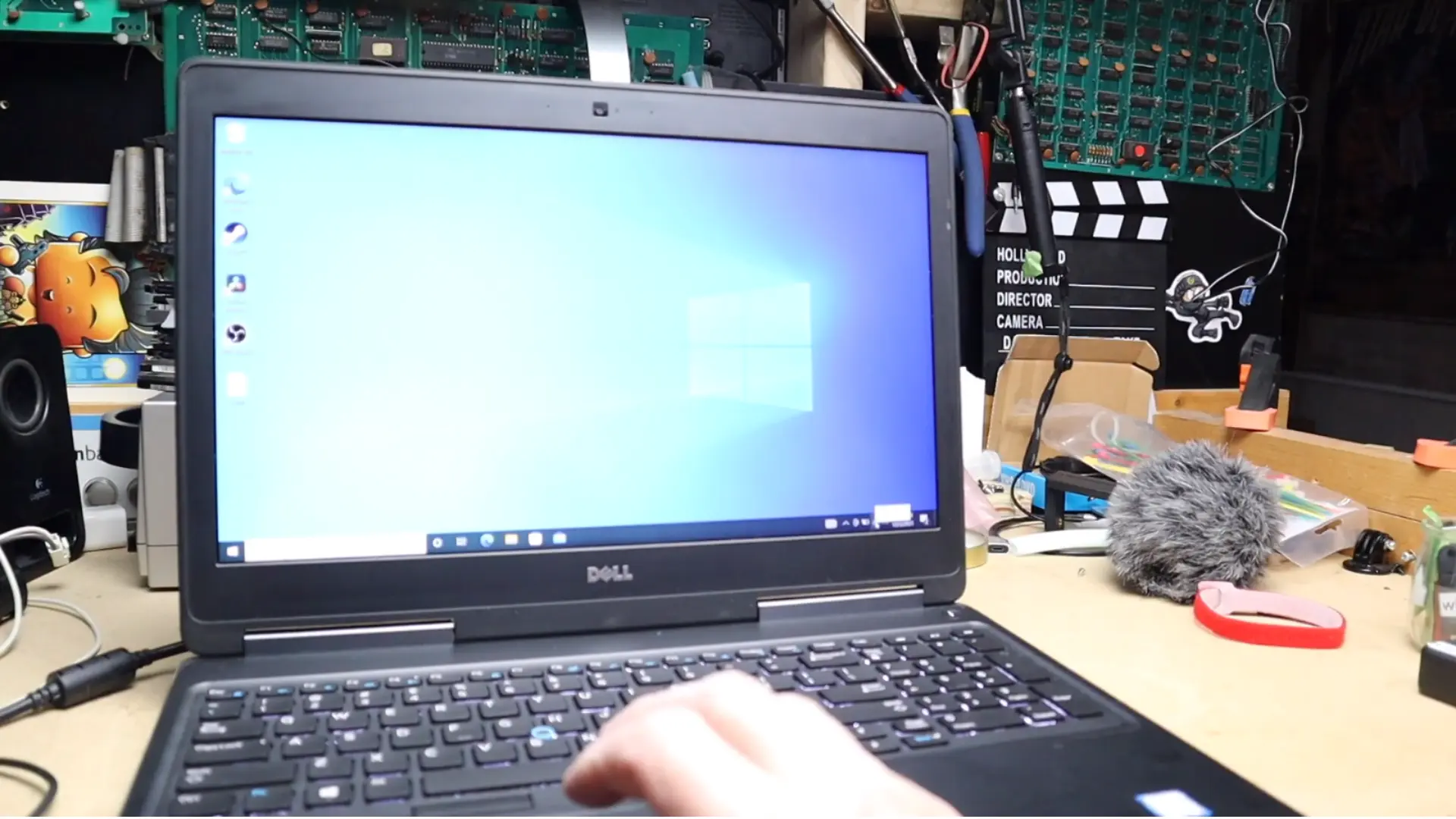 Moreover, the Precision 7510 got convenient port selections, including HDMI, Mini display port connector, and USB-3. Also, you can connect a dual display by using its HDMI and display output ports. This machine can do super smooth multi-tasking with its 16GB DDR4 RAM and fast application boot up with 512 GB SSD.
Dell placed Ethernet and power ports on the backside to minimize stress concentration in wires while using the laptop all day long. Furthermore, the Precision 7510 got a responsive Keyboard that makes typing a pleasure. Its trackpad also provides a smooth and accurate navigation experience, plus there is a pointing-stick input device in the middle of the Keyboard.
PROS
Lightweight and portable design
Long 8 hours of battery life
Multi-tasking handling capacity
Super responsive and strong travel keyboard
Dual display support with HDMI and display ports
Overall, the Dell Precision 7510 is your go-to laptop for handling day-to-day productivity tasks. So, if you want a laptop without camera for your business or professional use, there is nothing better and more affordable than the Precision 7510.
---
The HP EliteBook 840 G3 is a sleek and slim-looking laptop that packs tons of processing power. This unit has a 14-inch-high-definition display that gives you super vivid and sharp colors even in low light. Also, this 14-inch display supports video editing apps like Filmora, After Effects, illustrator, and much more.
Although this laptop doesn't have a dedicated GPU, you can still do 720p gaming thanks to its powerful i5-6300U processor. You can run processor-hungry applications without hanging or CPU throttling. Its 16GB DDR4 RAM provides you with enough multi-tasking power that you can open 20+ tabs on a web browser without putting a load on the processor.
I like this laptop because it's super light and thin, So, you can carry it around in your hand wherever you go. Also, the EliteBook 840 G3 takes 10 to 20 sec to boot up, thanks to its 256 GB SSD. The RAM And storage are also expandable up to 32GB and 4TB.
You will get a nice set of ports, including a display port, VGA, Headphones output, Microphone input, and Ethernet port. Furthermore, the HP EliteBook 840 G3 got a huge 12 hours 30 minutes battery time, allowing you to use this machine all day long without worrying about charging.
PROS
Super long 12:30 hours battery time
Vivid and sharp 14 inches display panel
Ultra-portable sleek, and thin design
Expandable RAM and SSD
Versatile port selection
If you want a portable laptop with outstanding functionality and an affordable price tag, the HP EliteBook 840 G3 is ideal. Moreover, this machine got a compact and sleek design that still manages to pack versatile ports so that you won't need any external adapter.
---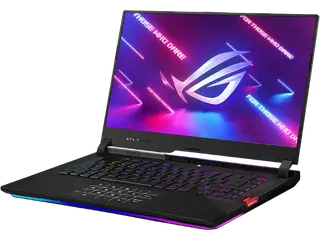 Last but not least is another ROG series gaming laptop, the Asus ROG Strix Scar 15. Let me tell you about its fancy design first, the scar 15 got a premium-looking RGB lightning Asus logo on its lid, and there is an accent piece that you can customize from 3 different styles included in the box.
The ASUS ROG Strix Scar 15 rocks an Nvidia GeForce 3080 GPU with 8GB VRAM giving you exceptional gaming speed and rendering power. Also, the lethal combination of this GPU with a Ryzen 5000 series processor gives gamers and creators the option to do both processor and GPU-based gaming and rendering.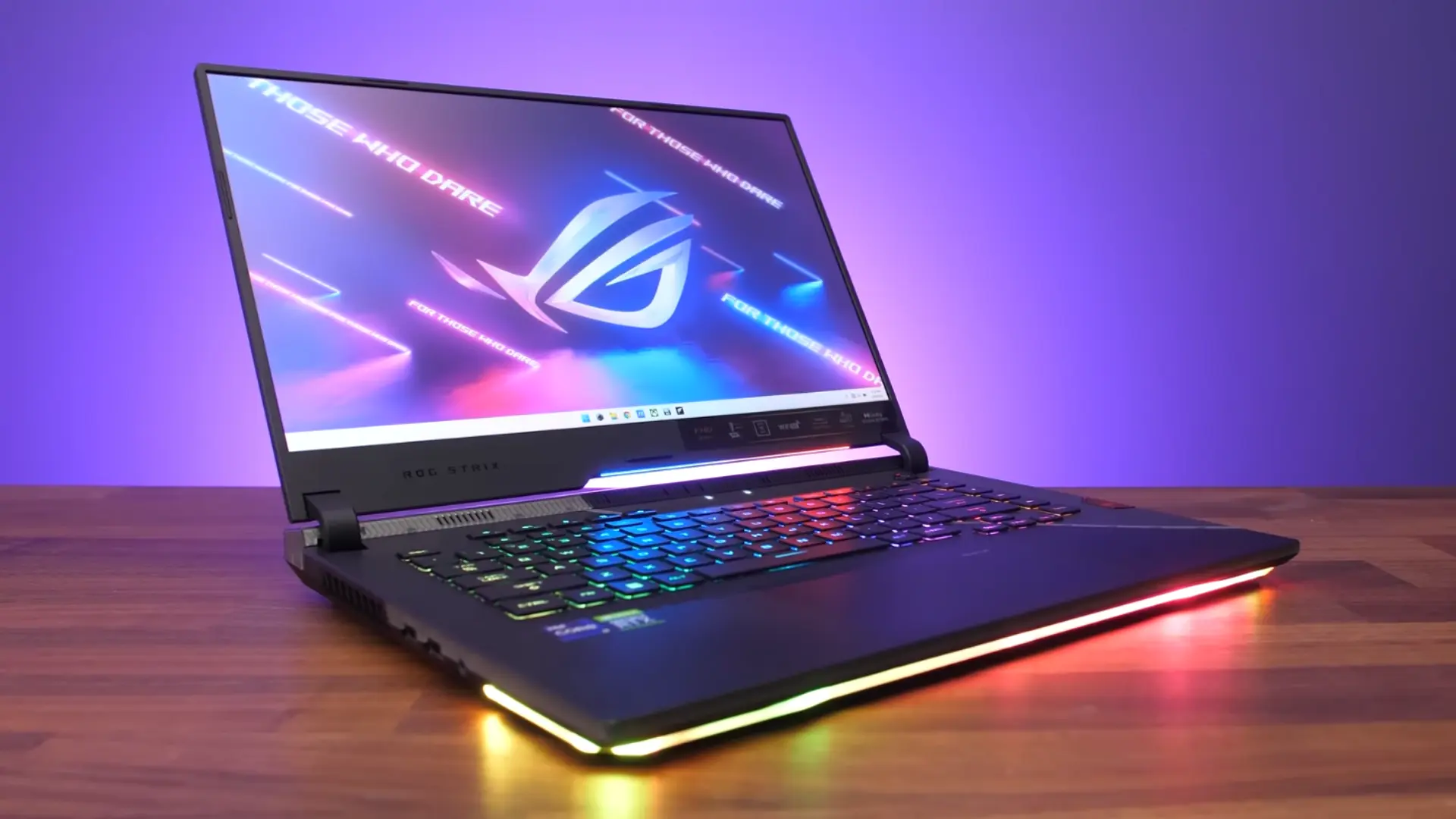 If you are a hardcore online FPS gamer, you will be glad to hear that the Scar 15 has a 300Hz ultra-fast display penal that offers a 3ms response time to enjoy fast and smooth extreme gameplay visuals. Also, the 15.6-inch display screen is FULL HD and IPS, which guarantees you Super sharp and color-accurate visuals.
Moreover, the scar 15 uses a ROG intelligent cooling thermal system that mixes the right features and settings to ensure maximum heat dissipation and air circulation. This gaming machine has an Opti-mechanical per-key RGB Keyboard that gives you a fast key response and minimizes the registry delay to control your game with max accuracy.
PROS
Fancy RGB lighting design
Powerful Nvidia RTX 30 series GPU
Ultra-fast and smooth 300Hz display
Efficient Rog intelligent cooling
Super responsive RGB mechanical Keyboard
This laptop is pretty awesome in terms of performance, functionality, feel, and how it acts. Also, the Asus Rog Strix 15 is one of the best laptops without webcam because of its super responsive and fast 300Hz display panel that supports both gamers and creators.
---
Buying Guide
This buying guide will give you an idea about what your ideal pick should look like. Moreover, in this guide, I will briefly explain some of the crucial points that everyone should consider while buying the best computer without a webcam from the market.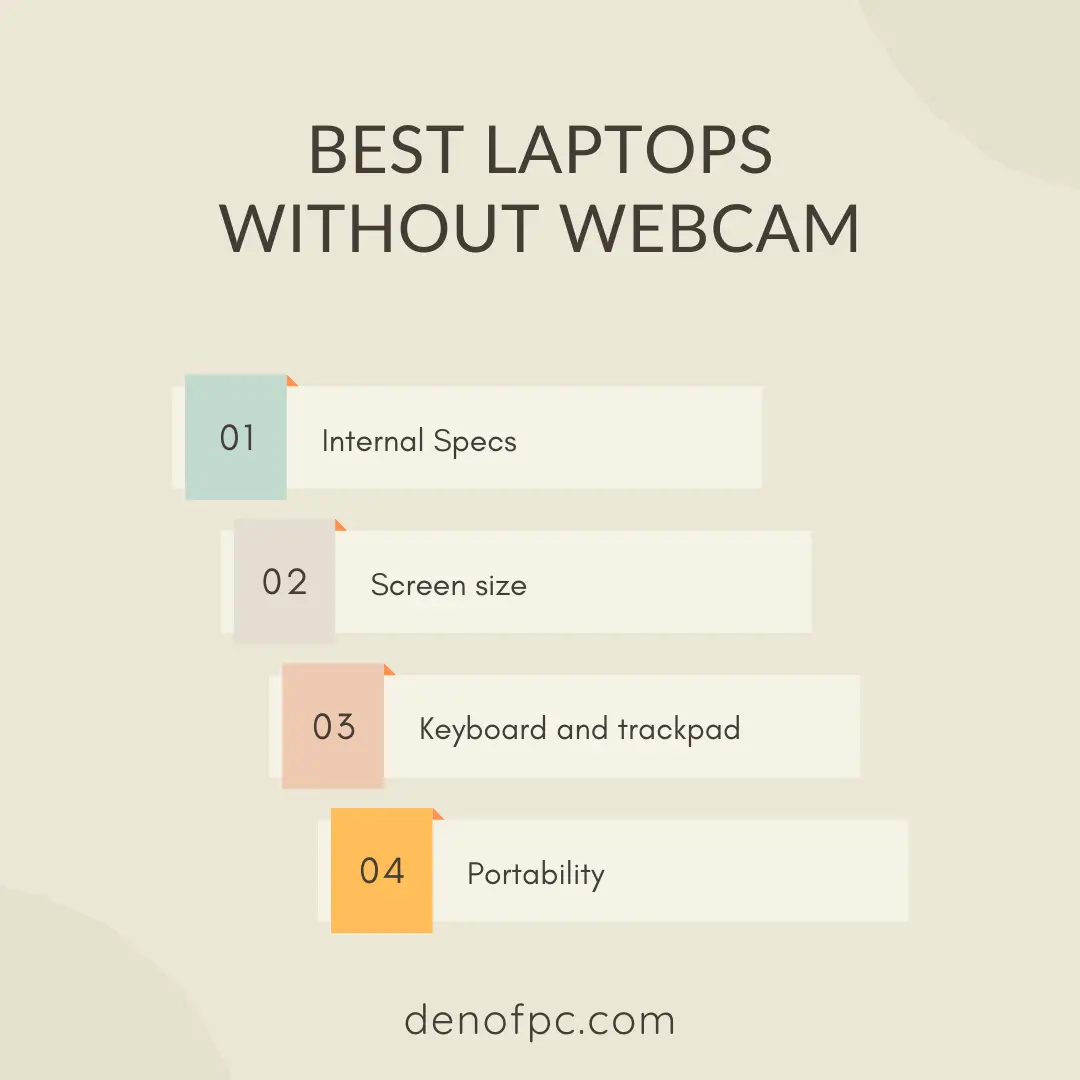 Internal Specs
Internal specs or hardware are the most important part of a laptop because they determine its speed. Internal specs include GPU, CPU, RAM, and storage, so the better the internal specs are, the better your laptop's capacity to handle versatile tasks.
So, I recommend you go for a laptop that offers at least an Intel i7 or i5 processor, Nvidia 30 series GPU, 8GB RAM, and 512GB SSD to work with max speed and stability.
Screen size
Who doesn't like a huge high-resolution screen? Screen size selection also depends on your preference. For instance, if you are a graphic designer or video editor, you will need at least a 16-inch screen with an IPS display. On the other hand, if you are a casual laptop user or want to buy a laptop for business, a normal 15-inch screen will be enough.
Keyboard and trackpad
The Keyboard and trackpad are the two main components that define how comfortable and smooth your working or gaming experience will be while using a laptop. Hence, if you are a typist, I recommend looking for a laptop that offers a super soft and quiet keys keyboard.
If you are a hardcore gamer, then a laptop with a responsive RGB keyboard will suit you the best. Moreover, most people don't usually like to work on a laptop's trackpad but if you are not one of them, go for a large-size trackpad with a documents scroller on the side.
Portability
Portable laptops are pretty convenient because you can carry them around with you anywhere you go and do your important work while traveling. If you want portability, look for a laptop with thin and lightweight construction.
FAQ's
1-What is the best laptop without webcam?
The ASUS ROG Strix G5 is the best laptop without a front camera because it offers high functionality, power, and aesthetic look at quite a reasonable price. Also, this gaming machine has an extremely fluid 144Hz display panel that provides fluid and fast gameplay visuals.
2-Do all laptops have cameras?
No, there are some models available in the market with no webcam. Moreover, laptops having no front webcam can have thin bezels and a large viewing area. Also, it saves you from cyber-attacks like intruders hacking into your camera.
3-What is the average price range of no-camera laptops?
The average price range of camera-less laptops is from 600$ to 1400$. This price is not permanent. It fluctuates with the price and tax hike. This range also depends on your demands and spec requirements.
Final Verdict
To sum up, in my opinion, the best laptop without webcam is the one which suits you the best and I hope this article list was a success in providing you with your ideal day-to-day companion.
My favorite picks from the list are:
Because they both got outstanding functionality and performance both in gaming and daily life productivity tasks like video editing, web browsing, and much more. Thank you for reading our article, and if you got any suggestions or queries, the comment box is all yours.