As an Amazon Associate, Den of Laptop earns from qualifying purchases.
In these times of Global GPU shortage, finding a powerful GPU that looks good enough to enhance your pc aesthetic is a work of hassle. But don't worry, you are in the right place.
With one of the best graphics cards in your quiet pc case, there is no AAA title or rendering task you cannot handle at high resolution. Luckily, after thorough testing and benchmarking every major brand like AMD's Rx and NVidia's 3000 series GPUs, we put together the list of the best-looking GPUs on the market right now.
Best Looking GPU's for Gaming (2023)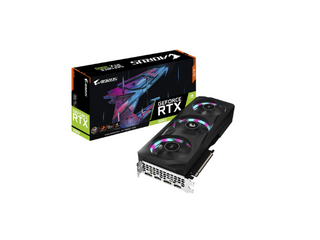 When it comes to style and looks, the Gigabyte Aorus graphic cards are topping them all. The Aorus RTX 3060 is a top-end NVidia 3000 series GPU with 2nd generation architecture technology. Therefore, you will get 2x faster performance and excellent shading for that ray-tracing performance.
Furthermore, this RTX 3060 comes with 3rd generation Tensor cores that dynamically adapt to the graphics process and give you more accuracy and performance during high GPU loading. These tensor cores also use cutting-edge AI algorithms such as DLSS, a groundbreaking rendering AI technology that boosts frame rates without compromising image quality.
Talking about performance, the Aorus RTX 3060 uses Nvidia's ampere streaming multiprocessors for that extra performance for your 3D rendering or heavy AAA title. Also, these multiprocessors make this GPU power-efficient and ensure workload acceleration. Its Neoenpunk style design with its fan RGB lightning provides a sci-fi aesthetic look that glows in the dark. Compared to its competitors like 2070 super, 3060 not only costs you lesser but is also more value for money.
Its Windforce cooling system features 3x unique curve 83 mm fans, copper heat dissipation pipes, and 3D active cooling to play your games all day long without worrying about heating issues. Moreover, you can also control the fan speed and personalize RGB lightning with its RGB fusion 2.0.
PROS
Ultra-efficient Windforce 3x cooling
High 12GB GDDR6 VRAM
Power-efficient NVidia Ampere technology
Aesthetic Neonpunk design
RGB fusion 2.0 customizable RGB lighting fans
Groundbreaking DLSS Ai technology
CONS
Takes space due to thick body
If you want a good-looking GPU that can give you high–quality gaming performance while keeping it self-cool, then the Gigabyte AORUS GeForce RTX 3060 ELITE is ideal for you. Also, I love this GPU because it's super affordable, and quiet, and it can give you an all-day gaming performance without breaking a sweat.
---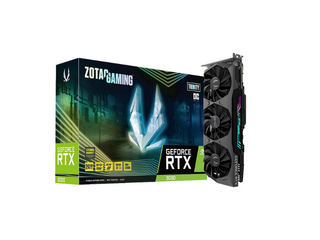 Thought about graphics cards having 24 Gb VRAM? NO? If that's your answer, then this next GPU on our list will blow your mind. The ZOTAC Gaming GeForce RTX™ 3090 Trinity OC is a powerhouse that is rocking 24GB of VRAM, that's right, 24 GB, that allows you to play your favorite games without putting the load on the processor.
Also, it got a pretty amazing side and back RGB design that looks pretty cool; you can control it with the spectra 2.0 application. Furthermore, the ZOTAC RTX 3090 uses NVIDIA Ampere architecture that includes ray-tracing cores and DLSS AI technology. Users will have a power-efficient and lag-free experience throughout their gaming.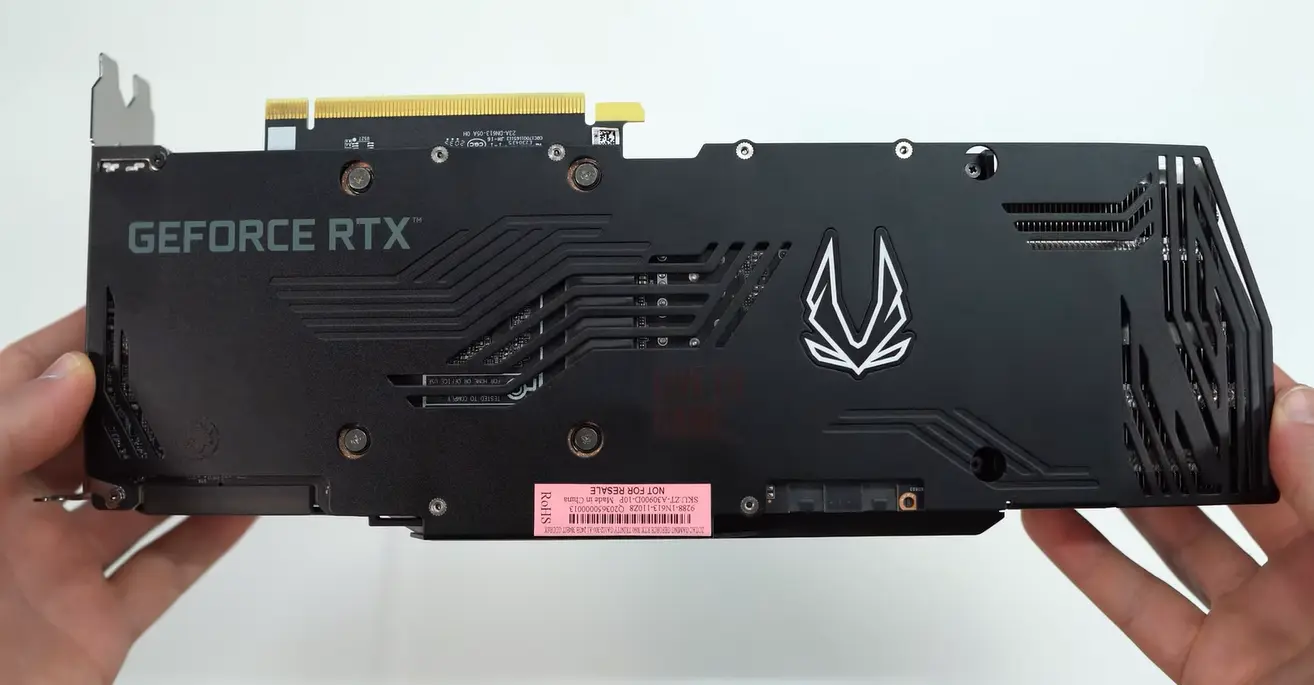 The ZOTAC RTX 3090 specs include 384 bits memory bus, clock boost up to 1710 MHz, and 19.5 GPs graphical transfer speed, making it an ultimate gaming powerhouse. Also, to keep the RTX 3090 under control, the ZOTAC built it with Icestorm 2.0 cooling system that is purpose-built for broader coverage to keep your GPU cooler and more substantial.
You can use your 4k or even 8k monitor thanks to its powerful DLSS AI acceleration. Further, it delivers excellent VR performance and supports Direct X 12, Vulkan RT API, and Open GL 4.6, which offer viewing and modeling transformation.
PROS
Immense power with 24Gb VRAM
Wide coverage Icestorm 2.0 cooling
High 8k and 4k gaming performance
Spectra 2.0 dynamic RGB lightning
Fast RT cores and AI technology
CONS
A little bit on the expensive side of the market
The ZOTAC Gaming GeForce RTX™ 3090 Trinity OC is ideal for those users who want to get a strong and good-looking GPU for their gaming rigs. Also, for all the 3D rendering fanatics, its 24GB VRAM can easily handle your heavy rendering animations and images.
---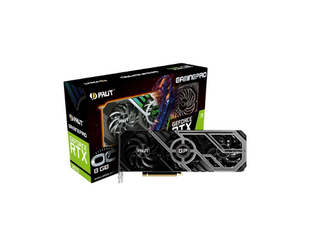 The Palit GeForce RTX 3070 GamingPro is all about the bling. This RTX 3070 GPU has a super cool three-strip SRGB lightning on its front that you can control and personalize using its Palit thunder master software. Also, it is a triple-slot card so that you will get bigger size fans for maximum air circulation.
If you hate fan noise like me, you will be glad to know that the Palit RTXX 3070 uses 0db tech fans that are ultra-quiet even at the full workload. A DRMOS chip originally available for high-end computers is now available in the Palit RTX 3070, which provides low heat generation.
Now let me enlighten you with its specs. The Palit RTX 3070 got 1500Mhz speed with a boost up to 1770MHz and 5888 CUDA Cores that give you immense speed burst and let you run modern AAA titles without any fps drop. Also, it uses NVIDIA's 2nd gen RTX architecture for power-efficient and fast working.
Its honeycomb design increases the air circulation by 15%, allowing more efficient cooling. The Palit RTX 3070 got Nvidia DLSS for max fps and quality, which increases your gaming performance with its dedicated tensor core Ai processors. Also, it comes with Nvidia G-sync, which gives you ultimate gaming visuals at up to 240Hz refresh rates.
PROS
Cool ARGB lighting design
Super quiet 0db tech fans
Max air circulation with honeycomb bracket
DLSS AI gaming acceleration
Ultimate Nvidia G-sync display
CONS
290mm length might be difficult to fit for smaller cases
If you don't want to spend much money and have the most incredible-looking gaming rig ever, then the Palit GeForce RTX 3070 GamingPro is the one to go. Also, make sure you look at getting a case that has a vertical GPU mount to show it off.
---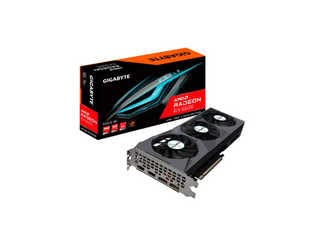 This entry-level 1080p card from AMD is a powerful beast when it comes to gaming performance and looks. The Gigabyte Radeon RX 6600 EAGLE is a slightly cut-down version of XT but still features an eight-pin power connector and 8 gigs of VRAM that is enough to run your graphic-hungry applications smoothly.
Moreover, this Eagle variant got a nice clean front with a shiny Eagle logo that looks pretty good on it. Also, I use this GPU myself, so I'm sharing my personal experience that it's a quiet worker. Even if you crank the fan speed to the max, you will not hear anything.
The Gigabyte Eagle comes with a GPU core clock of up to 2044MHz, and for extra graphical performance, you can boost it up to 2491Mhz, which also enhances your 3D rendering pace. In addition, it got Windforce 3x cooling system that includes three 80mm fans and three composite copper pipes that dissipate heat rapidly.
For competing with Nvidia's 2th gen RTX, AMD uses AMD RDNA 2 architecture that delivers incredibly 1080p gaming power. Further, the RX 6600 gives power to the next generation of gaming so you can have vivid and sharp gaming visuals. Talking about visuals, this GPU supports ray-tracing and direct X 12 for real-life visual clarity.
PROS
Vivid visuals with RDNA 2 architecture
The clean and sleek Eagle design
High core clock for faster gaming
Efficient WindForce 3x cooling
Ray-tracing and direct x 12 support
CONS
Average performance on 4k gaming
Overall, the Gigabyte Radeon RX 6600 EAGLE is a performance king that offers true gaming performance at quite a reasonable price tag. Also, this GPU is ideal for your GPU-dependent tasks like 3D GPU rendering and video editing.
---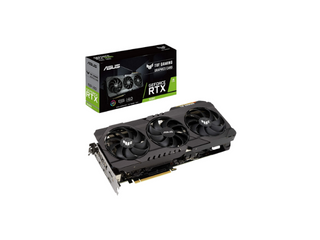 Playing games on max settings at 7,680 by 4,320 resolutions requires a lot more horsepower when compared to 1080p, but the ASUS TUF RTX 3080 is currently the card to beat. The ASUS TUF Gaming NVIDIA GeForce RTX 3080 Graphics Card can run every game you throw at it on 100+ FPS, all on ultra settings.
Unlike other RTX 3080 graphics cards, the ASUS TUF variant doesn't heat, thanks to its Axial-tech fan design. Also, this fan produces no noise, even on boost mode. Furthermore, its military-grade capacitors and other tuff safety fuse save your card from burning, costing you a lot of money for repair.
This cool-looking GPU can handle heavy rendering and GPU-hungry tasks thanks to Ampere multiprocessor technology that offers significantly high ray-tracing performance compared to the 2000 series. The ray-tracing feature lets you experience realistic shadow and reflection rendering that makes your gameplay visual ten times better and faster.
Moreover, its 3rd gen tensor cores support an 8k display so that you can use high-end 8k monitors with it. Also, these cores deliver a massive boost in performance in power for games and graphics-dependent productivity applications. You can also use its GPU Tweak II to tweak its performance by changing the fan speed and memory clock.
PROS
Efficient cooling Axel tech fan design
Tensor cores 8k performance
Thermal control with GPU Tweak II
Military-grade capacitor for cards safety
Fancy tuff gaming look
If you are looking for flawless 1440p perfection and ray tracing is particularly important to you, then this card is the one to put on your buy list. Also, this fancy GPU will enhance your pc overall aesthetic with its side RGB logo and beautiful design.
---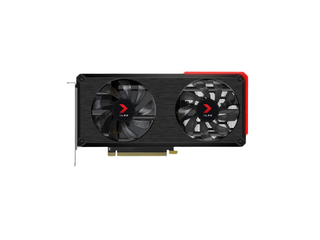 There is no doubt that if you need power, you have to compromise Chassis's available space, but that's not the case with the PNY GeForce RTX 3060. This GPU got dual-fan construction, so you can easily fit it in small gaming cases without giving up your other ports.
Moreover, the PNY GeForce RTX 3060 represents a huge performance boost over other variants because its heat-free closure lets air circulate through the GPU without dust particles. Also, it's a pretty cool-looking GPU with full-spectrum RGB and a breathable metal backplate.
When you consider the PNY RTX 3060 card, you cannot just match but will outperform the other RTX 3060 variants in terms of performance. As this GPU uses on-board 3584 CUDA processing cores, it will deliver 360 GB/s bandwidth to create the best gaming action you ever had.
The thing that really stands out for me is its variable resolution and refresh rate support. You can use your 8k 144hz display, and it still provides you with sharp and vivid colors with visual fluidity. Also, its Nvidia GeForce experience is an essential companion that will guide you and will optimize your games for better performance.
PROS
Game optimization with NVidia GeForce experience
High processing cores power
Versatile resolution and refresh rate support
Smooth and fast G-sync gaming experience
Cool full-spectrum RGB lightning
The PNY GeForce RTX 3060 is ideal for budget gamers who got low chassis space available and want something powerful for gaming. If you are a fan of RGB lighting, this GPU to full-spectrum RGB lighting will light up your desktop during the night.
---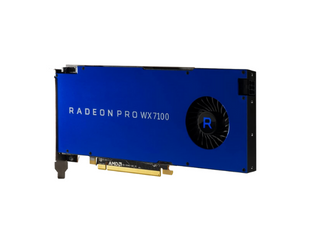 The seventh product on our list is the AMD Radeon Pro WX 7100. If you are looking for the best-looking graphic card out there that can handle graphic-intensive tasks, you might have to look into what WX 7100 has to offer. This GPU got a sleek and clean blue finished surface that looks quite amazing.
The AMD Radeon Pro WX 7100 delivers VR workflow with its 4th generation AMD core architecture. Also, it will support your graphic designing and rendering applications with Readon AMD pro software. You can unleash your creativity with its 5.73 TFLOPS of peak SPFP that provides enough power to accelerate demanding workloads.
Furthermore, the AMD Radeon offers an 8GB VRAM that enables the user to work at an extreme level of speed and responsiveness. Also, you will experience vivid and color-accurate image quality as it supports 10-bit color. What makes me a fan of this GPU is its high dynamic range that enables you to see s crystal clear true-life visuals.
Although it is a work GPU, you can also do gaming because of its comprehensive API support, including Direct X 12, OpenGL, and Vulkan. The AMD Radeon Pro WX 7100 also provides performance to design software like CAD and solid works with CGPdesign.
PROS
Design software compatibility with CGPdesign
Fast 4th gen AMD architecture processing
Clear and sharp due to high dynamic range
Ideal for VR workloads
Comprehensive API support
CONS
Not suitable for 8k performance
Overall, AMD Radeon Pro WX 7100 offers great professional and design applications support, making it a perfect pick for editors and designers. Further, you can also do casual gaming on this beautiful GPU on the side if you want.
---
Buying Guide
Still don't know what to buy? Don't worry. This buying guide will share some of the key features you have to look for when purchasing the best-looking GPU.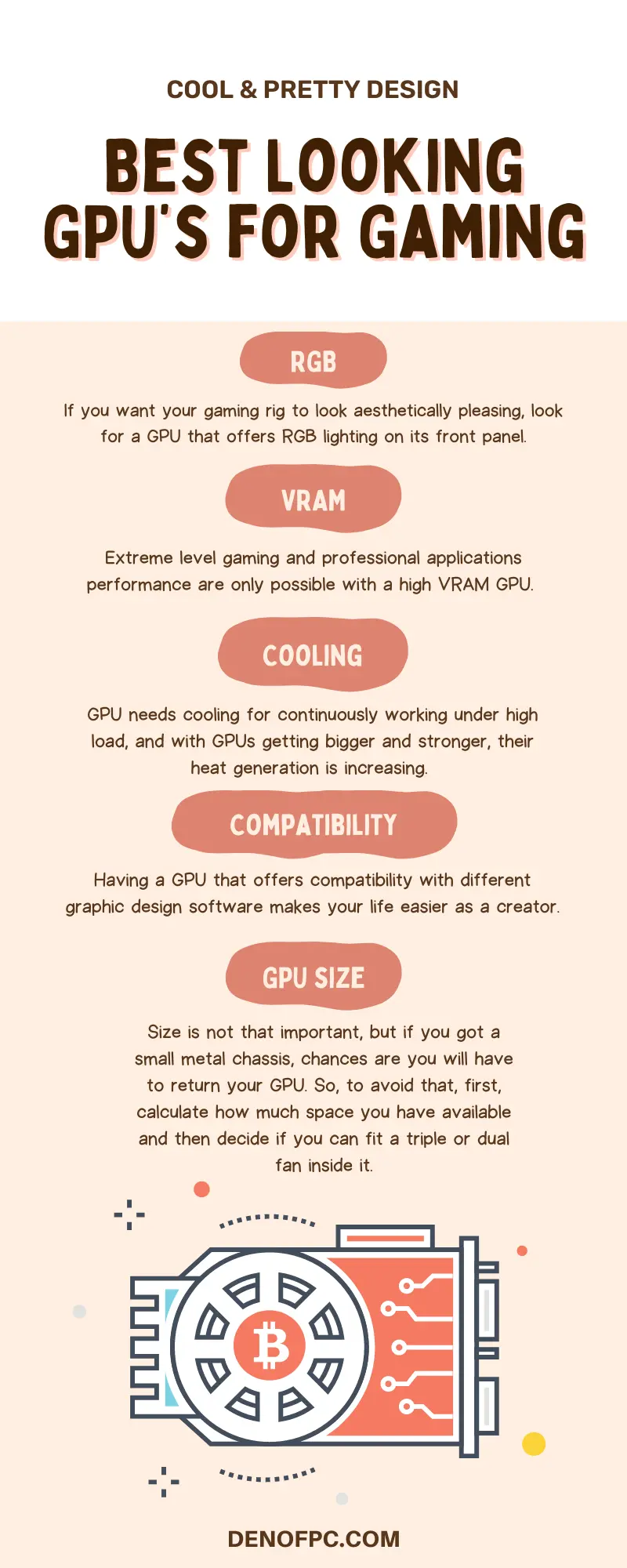 RGB
If you want your gaming rig to look aesthetically pleasing, look for a GPU that offers RGB lighting on its front panel. Furthermore, there are different variants of GPU available on the market, and they all offer different RGB lightings like RGB chrome lighting and spectra 2.0, so you can choose according to your PC build them.
VRAM
Extreme level gaming and professional applications performance are only possible with a high VRAM GPU. VRAM decides the GPU processing speed and load handling capacity. Therefore, look for a GPU that offers at least 6GB DDR6 VRAM so you can run modern AAA titles and graphic-hungry software efficiently.
Cooling
GPU needs cooling for continuously working under high load, and with GPUs getting bigger and stronger, their heat generation is increasing. So, look for a GPU that offers excellent cooling, just like Nvidia's gigabyte variant's Windforce 3x cooling system that dissipates heat efficiently.
Compatibility
Having a GPU that offers compatibility with different graphic design software makes your life easier as a creator. Also, with high compatible GPU, you will experience fast rendering time and responsiveness when using professional software.
GPU size
Size is not that important, but if you got a small metal chassis, chances are you will have to return your GPU. So, to avoid that, first, calculate how much space you have available and then decide if you can fit a triple or dual fan inside it.
FAQs
1- What is the best-looking GPU?
In my opinion, all the GPUs on our list are cool and good-looking. Furthermore, it depends on your preference and what type of design, lighting, and cover plate you like and suits your overall pc aesthetics.
2- Which brand got the best GPU, Nvidia or AMD?
They both got their merits and demerits, but if you ask me, I will say that Nvidia is slightly ahead of ADM because of its power-efficient Ampere technology. It consumes far less power.
3- What is the best price range for a fancy GPU?
The price range of a good-looking GPU is from 400$ to 1000$, but it varies from variant to variant. Also, if you have the budget, you can go for high-end GPUs like RTX 3090 that cost more than the 1000$ price mark.
Final Verdict
It doesn't matter which tasks you are running on your PC; you'll need one of these graphics cards on our list to really push through your pc gaming or graphic dependent projects. I hope this article helped you a lot in your selection process.
My top picks from the list are:
Gigabyte AORUS GeForce RTX 3060
ZOTAC Gaming GeForce RTX™ 3090
Because they are super powerful and got aesthetic RGB lightning that can enhance any rig's appearance, that's all for this list of best looking GPUs. Thank you for your precious time, and if you have any suggestions feel free to comment.