As an Amazon Associate, Den of Laptop earns from qualifying purchases.
The need for good laptops that could handle HD streaming and excellent video editing capabilities led to the emergence of several ideal laptops for streaming. If you are looking for a laptop that can help you enjoy your favorite games on the go, or if you are looking for a laptop that helps you create videos that bring in thousands of dollars, we have it all.
We have been researching these wonderful machines and discovered several best gaming laptops for streaming that ensure adequate performance even when you are playing the newest games or streaming live contests. Our reviews help evaluate the perfect machines from the different manufacturers so that you can choose the best one for your requirements.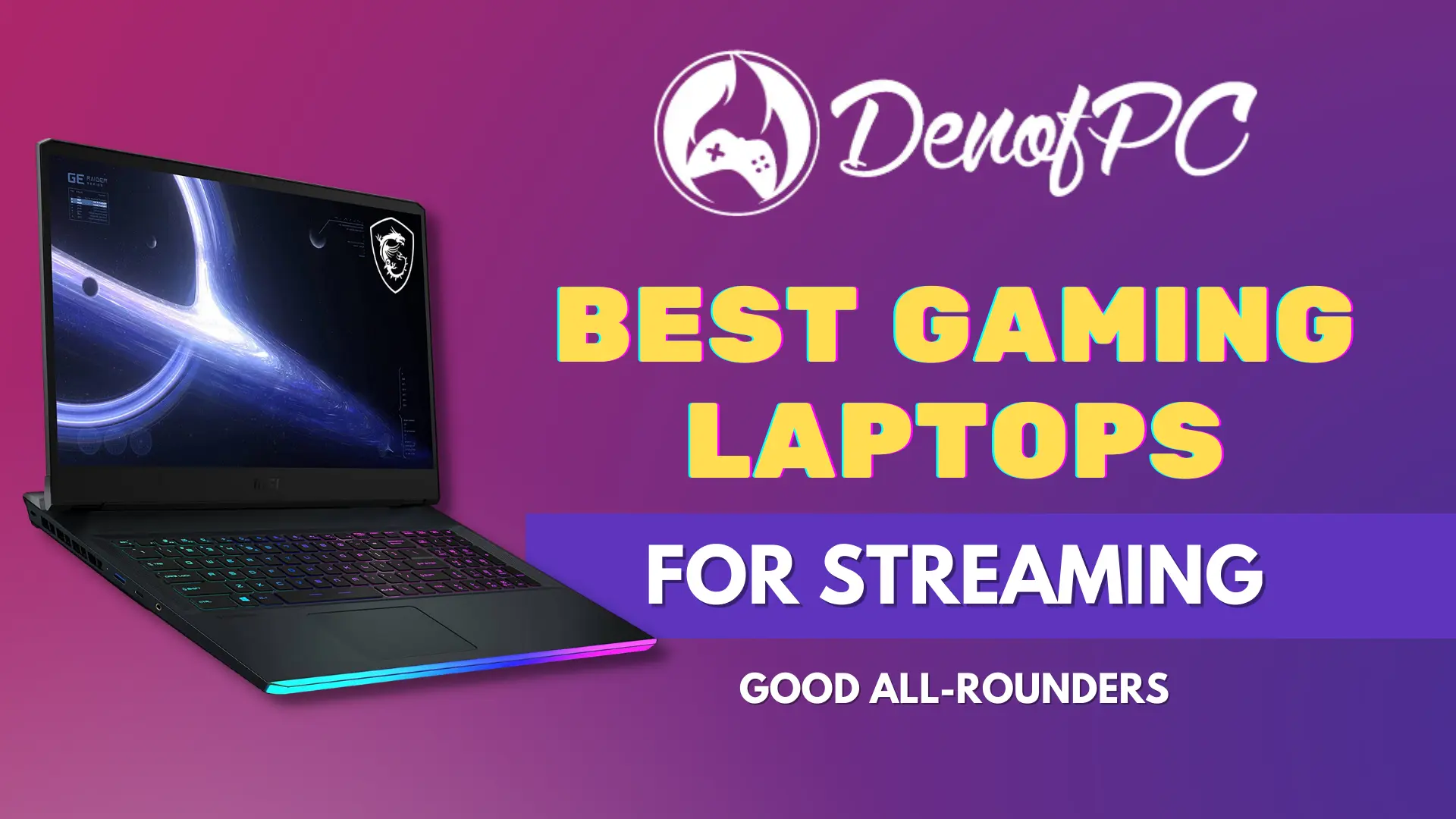 Best Gaming Laptops for Streaming (2022)
Specifications
CPU: 3.0 GHz up to 4.6 GHz 8 cores AMD 5th Generation
Storage: 1TB Solid State Drive
Memory: RAM 16GB DDR4
Graphics Card: 8GB GDDR6 NVIDIA RTX 3070
OS: Windows 10 Home Edition
Connectivity Options : 802.11ax Wifi, Bluetooth 5.1, Ethernet
Input: RGB Backlit Keyboard,
Screen: 15.6″ 2K Quad HD 16:9 Display
Ports or Slots options: HDMI/USB 3.2 Type-C
Battery: 4-Cell Battery
The Zephyrus G15 is one of the complete gaming laptops available today, and I would easily recommend it to anyone looking for a new laptop. The ROG Zephyrus G15 is the ideal gaming laptop also for professional Streamers.
One of the standout features of the Zephyrus G15 is its 240Hz refresh rate display. ASUS calls it the fastest 15-inch laptop display ever, and at 240Hz, it's probably true. The screen has a 1080p resolution, which should be good enough for most gamers, but I wouldn't mind a higher-resolution option for streaming or creating videos.
The ASUS ROG Zephyrus G15 has an NVIDIA GeForce RTX 3080 graphics card (GPU). The GPU uses the new NVIDIA Ampere architecture, which supports ray tracing, artificial intelligence, and programmable shading for advanced performance for all heavy games. The GPU also features 16GB of GDDR6 VRAM, twice as much as other laptops.
On the other hand, It has the 11th generation Intel Core I7-11800H processor with a base speed of 2.6GHz and turbo boosts up to 4.8GHz.Moreover, it is supported by 32GB of DDR4 3200MHz memory, and it has a 1TB SSD. With these specs, any gaming streamer can work smoothly without lagging issues during multitasking.
PROS
Superfast CPU
A powerful GPU is enough for flawless gaming
The refresh rate is higher for streaming tasks RGB keyboard offers a responsive experience.
All types of ports are available to choose
CONS
Require an External webcam
Battery life is not up to the mark
Apart from the non-availability of a Webcam, ROG Zephyrus G15 has everything for a gaming streamer. Its most like feature is its dedicated GPU with a refresh rate of 165 Hz, the ultimate solution if you want an ideal laptop for gaming or streaming.
---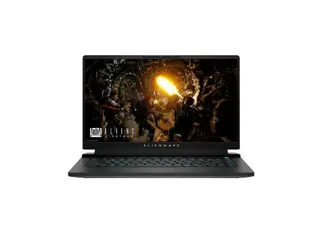 When you wanted to play games on your laptop a few years ago, you were limited to low-level devices. But thanks to Alienware M15, you are now able to play High tech games with full benefits.
The Alienware M15 R6 comes with an 11th Generation Intel Core i7-11800H processor. This processor can process more data in a given time. Therefore, it will provide you with better performance during heavy tasks like gaming or video editing.
The Alienware M15 R6 has 16GB 3200MHz DDR4 RAM to save you from poor performance and device crashes while gaming or any other heavy work.
Streamers and content creators also need laptops with great hardware that can perform well during their streams and give them great performance while playing a game or rendering videos. The Alienware M15 R6 has NVIDIA GeForce RTX 3070 8GB GDDR6, a dedicated GPU that will help with gaming and streaming at the same time.
PROS
Plenty of connectivity options with Thunderbolt 4
R6 consumes strikingly less power
The processor delivers uninterrupted performance
The refreshing rate offers blur-free motions
Speakers are loud if you allergic to handsets
>

CONS
Overheating surface is annoying
The machine cannot be silent
Gamers always need laptops with the best hardware to play the latest titles at their maximum settings. Keeping in view its hardware specs, I recommend this laptop is great for gaming and perfect for video editing software for live video streaming shows.
---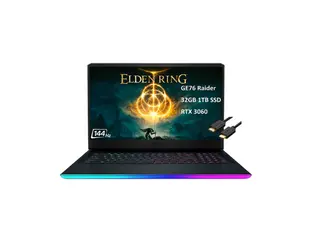 Do you need a gaming laptop for streaming? MSI has a great choice for you, but their latest GE76 Raider laptops are built to satisfy your every need as a gamer and streamer.
It'sIt's an absolute beast of a machine with an Intel Core i7-11800H that can handle pretty much any game you can throw at it and run them all at max settings. The GeForce RTX 3060 Laptop GPU means no lag when streaming, which results in higher quality streams overall.
The laptop's 17-inch display has a fast 144 Hz refresh rate, perfect for Fortnite and Call of Duty: Warzone games. This means very smooth animations, great for any game that requires fast reflexes.
One feature that inspired me most is that MSI GE76 Raider has amazing audio thanks to its two 2W front-facing speakers and two 3W side speakers, which have Dynaudio sound technology. The keyboard is also very good, with 4mm key travel, making it feel super responsive.
PROS
Louder 3W Speakers offer incredible sound
Wide range of connectivity options
Fans are silent
HQ Webcam 1080p for streaming
If you're looking for a gaming laptop that can also run your stream without any issues, the MSI GE76 Raider has you covered. It'sIt's not cheap but its design and power make it worth every penny.
---
Specifications
CPU: AMD Ryzen 7 5700U Octa-Core 1.80GHz Processor
Storage: 512GB Solid State Drive
Memory: RAM 32 GB DDR4
Graphics Card: GeForce RTX 3060
OS: Windows 11 Home
Connectivity Options : Bluetooth/ Wi-Fi/USB/Ethernet/ HDMI
Input : Touchscreen/ Keyboard
Screen: 15.6″ Full HD micro-edge Touchscreen
If you need a faster computer because you're always gaming or editing videos, photos, and music, it's worth paying extra for a higher-spec processor.
HP Envy x360 is a 2-in-1 laptop with a 15.6-inch display that can be used as a standard notebook or folded into a tablet.
It is AMD Ryzen 7 5700U Octa-Core 1.80GHz Processor, and 32GB RAM can handle any tasks you throw on it, and its 512GB SSD storage gives you plenty of room to store all your files.
With its built-in webcam, microphone, and speakers, the HP Envy x360 makes it easy for you to stay connected with friends and family on the go. Moreover, a wide range of ports is available, whether using the laptop for work, creativity, or entertainment. A Thunderbolt 4 port provides fast data transmission and high-resolution display output. Your creativity will not interrupt due to data transferring issues.
PROS
Metal build provides durability
The touch display is too much responsive
Provides superb gaming performance
Purely value for your money
CONS
Make noise while gaming
No Thunderbolt
HP is one of the oldest Laptop manufacturers in the market and is famous for its high-tech machines. There is no reason that HP would never contribute to the race of Gaming Streaming Laptops. We found that Envy X360 is a stylish gaming laptop with zero lagging while multitasking.
---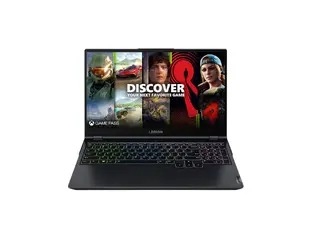 Specifications
CPU: AMD Ryzen 7 5800H processor
Storage: 512 GB Solid State Drive
Memory: RAM 16GB DDR4
Graphics Card: NVIDIA GeForce RTX 3050 T
OS: Windows 11 Home
Connectivity Options: Bluetooth 5.0/ WiFi 6/ USB-C/ HDMI 2.1 / Ethernet
Input: RGB Backlit Keyboard,
Screen: 15.6 Inches
Battery: 1 Lithium
If you want to stream with a high resolution and high frame rate simultaneously, you will have a lot of difficulties with the normal CPU. That's why AMD Ryzen 7 5800H is a good choice for this goal.
Combining an octa-core processor and the GeForce RTX 3050 Ti ensures that you can play and record your favorite games in full HD resolution at a 165Hz refresh rate.
Speaking of keys, I love the gamer aesthetic on the Legion. Each key is individually backlit with RGB lighting, which means you can customize it to whatever color scheme you want (or just leave it off if you're worried about battery life).
PROS
Lenovo gives a Sturdy build in Legion 5
Plenty of ports are available for gamer's convenience
165 Hz FHD IPS display offers awesome streaming
Good speakers build a remarkable sound quality
Processor and GPU combination
Thermal control provides high-level cooling
CONS
AC adopter is heavier
SD card reader not available
Lenovo's Legion 5 gaming laptop is one of the best gaming laptops you can get, offering a blend of powerful specs, a well-built design, and relatively quiet fans, all at an affordable price.
---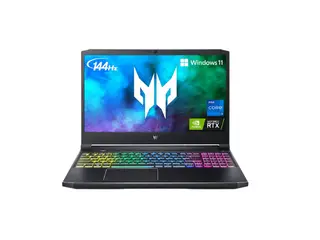 Specifications
CPU: Intel Core i7-11800H processor
Storage: 512 GB Solid State Drive
Memory: RAM 16GB DDR4 (3200MHz)
Graphics Card: NVIDIA GeForce RTX 3060
OS: Windows 11 Home
Connectivity Options: Bluetooth 5.0/ WiFi 6/ USB-3.2/ HDMI 2.1 / Thunderbolt
Input: RGB Backlit Keyboard,
Screen: 15.6 Inches
Battery: 1 Lithium
Are you a content creator or a gamer? Then this laptop is for you. Acer Predator Helios 300 comes with an 11th Generation Intel Core i7-11800H processor, featuring eight cores and 16 threads, plus the latest NVIDIA GeForce RTX 3060 with 6GB GDDR6 dedicated memory for even better performance.
The Helios features solid build quality and a lighter 5.06 pounds weight than many other gaming laptops in this price range, making it ideal for those who require portability. There are also plenty of connectivity options, including Wi-Fi 6, multiple USB ports, and HDMI 2.1, plus Thunderbolt 4 for super-fast data transfers or connecting to an external monitor. An RGB backlit keyboard completes the package, ensuring it looks as good as it performs.
PROS
Perfect for gaming and streaming
RAM Can be upgraded
The refresh rate has a greater impact on your heavy tasks
2 x M.2 Slots are available to upgrade your storage
We felt immense pleasure while testing this machine because we experienced Call of Duty without lagging a single time (which I was not expecting) at this price. Moreover, the up-gradation option is another plus point to recommend this laptop as the best streaming gaming laptop for gamers with a low budget.
---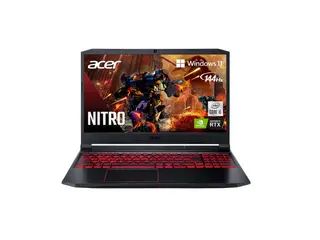 Specifications
CPU: Intel Core i5-10300H 10th Generation
Storage: 256 GB Solid State Drive
Memory: 8 GB DDR4 with two slots for upgradation
Graphics Card: NVIDIA RTX 3050 T 4GB dedicated GDDR6 VRAM
OS: Windows 11 Home
Connectivity Options: Bluetooth 5.0/ WiFi 6/ Ethernet
Input: RGB Backlit Keyboard,
Screen: 15.6 Inches
Battery: 1 Lithium (8 Hours)
If you are thinking about getting started and becoming the next big thing on Twitch, here is another machine. Acer's Nitro 5 gaming laptop has everything a gamer wants.
The Acer Nitro 5 is the best laptop for gaming and streaming that you can buy at this price. It is one of the most powerful laptops in this segment with its Intel Core i5-10300H processor and NVIDIA GeForce RTX 3050 GPU. With this combination, you can smoothly play most high-end PC games.
The 8 GB (upgradable up to 32GB) RAM ensures that you never run out of memory, even when using multiple applications at once. Moreover, its fast at 144 Hz, the impressive display shows an amazing gameplay experience.
PROS
A powerful processor removes all gaming hurdles
6″ Full HD is good for streaming
Above-average battery life
Faster SSD is a complete solution to storage issues
A backlit keyboard creates a dreamy look for gamers
ACER Cool boost technology cools down the machine when required
CONS
The sound quality is poor
If you are looking for a laptop that offers a good balance between gaming and productivity on a budget, I will suggest Acer Nitro 5 to you.
---
Buying Guide
So, you are in find of the best gaming laptop for streaming, right? There are many choices out there, but don't worry. We are telling you some most vital elements you should check before buying a new machine. Following are the factors: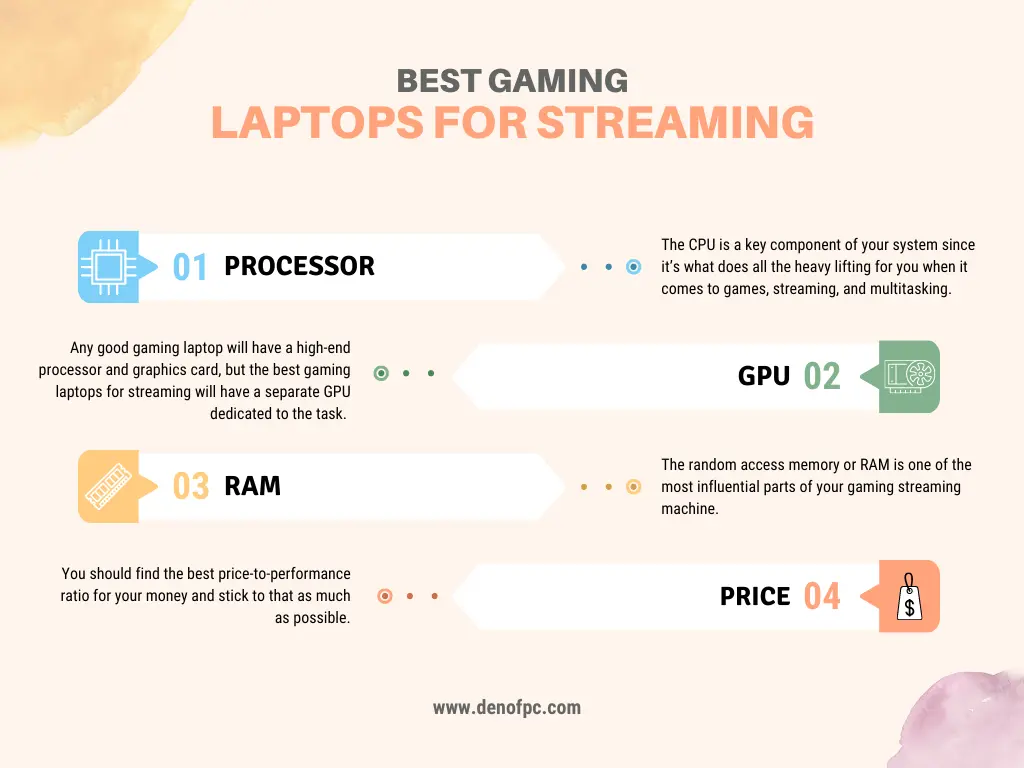 Processor
The CPU is a key component of your system since it's what does all the heavy lifting for you when it comes to games, streaming, and multitasking. You want something that can handle everything thrown at it without bottlenecking your other components. The Intel i7 will be the best choice if you can afford it. On the other hand, AMD processors are available with full benefits at a comparatively low price.
GPU
Any good gaming laptop will have a high-end processor and graphics card, but the best gaming laptops for streaming will have a separate GPU dedicated to the task. This is because running games at high resolutions with all the eye candy maxed out can put your CPU through its paces, causing it to run hot and throttle back performance to cool down.
RAM
The random access memory or RAM is one of the most influential parts of your gaming streaming machine. It affects the speed of your system and its ability to process information. A higher RAM capacity means that it can process more data at one time. This results in faster gaming speed and better performance for your laptop while making videos.
Price
You'll have to think about your budget and how much you are willing to spend on your laptop. You should find the best price-to-performance ratio for your money and stick to that as much as possible.
FAQ's
1-Can I use the same laptop for streaming and gaming?
You can use a laptop for streaming and gaming if it has the necessary components. The most important parts of a laptop for gaming are the CPU, video card (GPU), RAM, and storage drive. These components will determine what games your laptop can run and at what settings. You may need to spend some extra bucks to buy an external microphone, webcam, or capture card.
2-Does better RAM support smooth streaming?
Yes, more RAM would help. I would advise a minimum of 4 GB for good performance. However, the actual performance increase will depend on how many other applications you have running in the background and how much RAM they take up.
3-What Is Refresh Rate And How Does It Affect Laptop?
Refresh rate helps to determine the number of frames per second (FPS) your display can produce as you try to play intensive games on your laptop. From a casual gamer to the most extreme of gamers, refresh rate is important to know when deciding on a gaming laptop. For more serious gamers and those that have multiple monitors, a high refresh rate would be best for smoother overall playtime.
Final Verdict
Hopefully, you've found this article beneficial. Although you can use certain laptops for streaming, finding the right machine isn't still uncomplicated. But now you can decide between the laptop you purchase. And with any luck, your next streaming session will be much smoother and more enjoyable as a result.
Among the best gaming laptops for streaming, we have picked the following machines;
MSI GE76 Raider is the best gaming laptop for streaming.
Acer Predator Helios 300 is the best affordable laptop for streaming.