As an Amazon Associate, Den of Laptop earns from qualifying purchases.
Due to expensive gaming PCs and the recent hike in the prices of graphic chips, more and more gamers are looking for cheaper alternatives. The best substitute for a gaming PC is a gaming laptop. However, it does not function the same, but many laptops are available on the market, giving you performance comparable to the PC and a realistic experience.
These gaming laptops are further upgraded with some essential accessories. As I am also a laptop gamer, I have bought many accessories. Not all accessories are as useful for gaming; therefore, I will only discuss the best gaming laptop accessories essential for gaming.
Best Gaming Laptop Accessories (2022)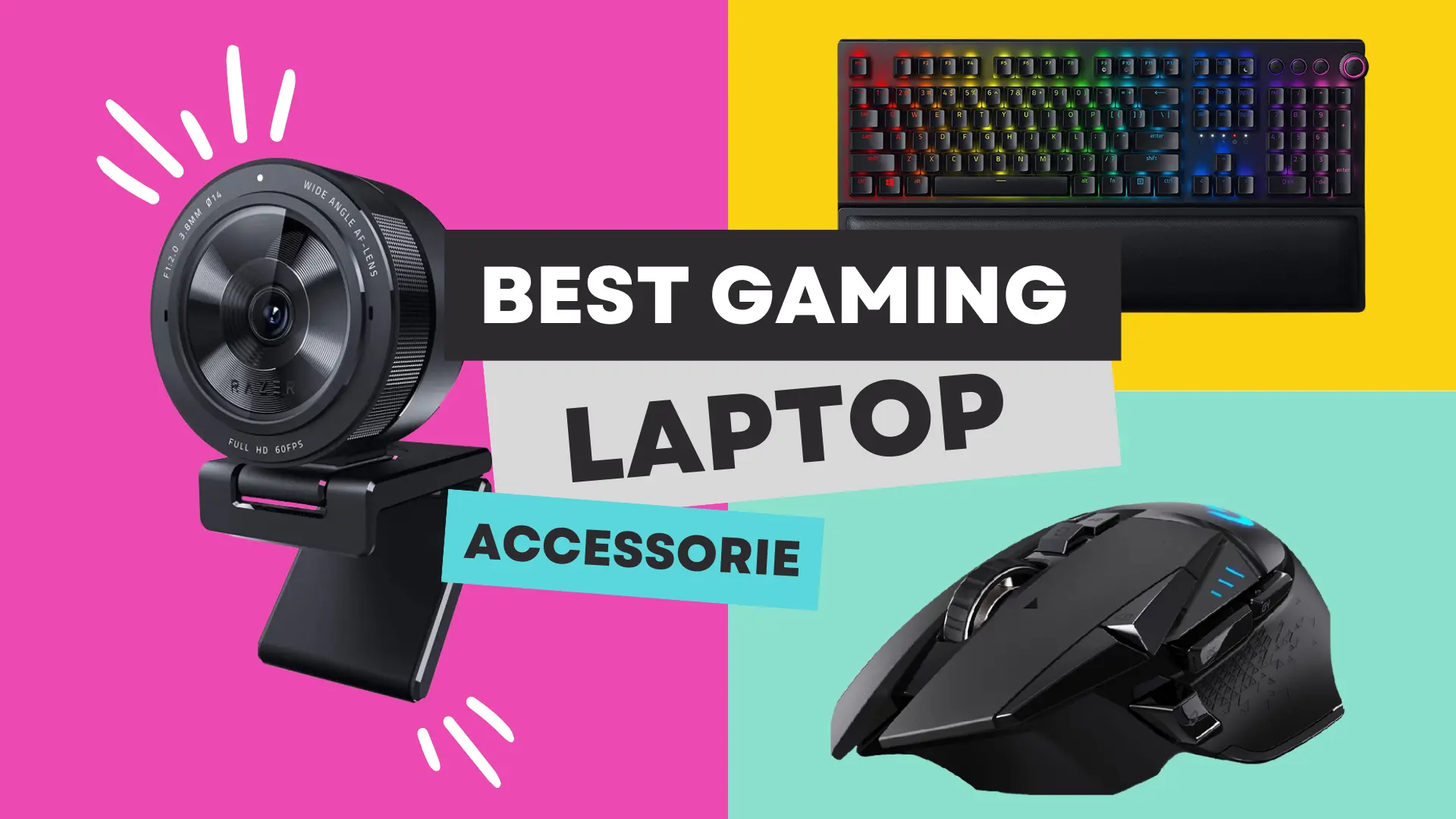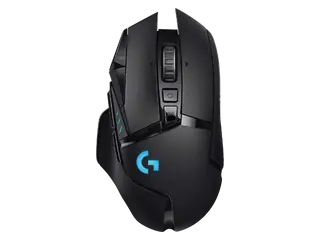 It is impossible to play high graphics games with the touchpad on your laptop because it doesn't let you aim for your target properly. A gaming mouse is an essential accessory for your gaming laptop because it improves your gaming performance by providing precision to the movements and aims.
The Logitech G502 is among the most well-regarded gaming laptop essentials. It is a wireless mouse with a high connection speed, and its 16000 DPI resolution provides pinpoint accuracy. It is the perfect mouse for first-person shooter games and is more efficient than other brands for strategy games where you need a lot of commands. Its 11 customizable buttons help to set up these commands for you.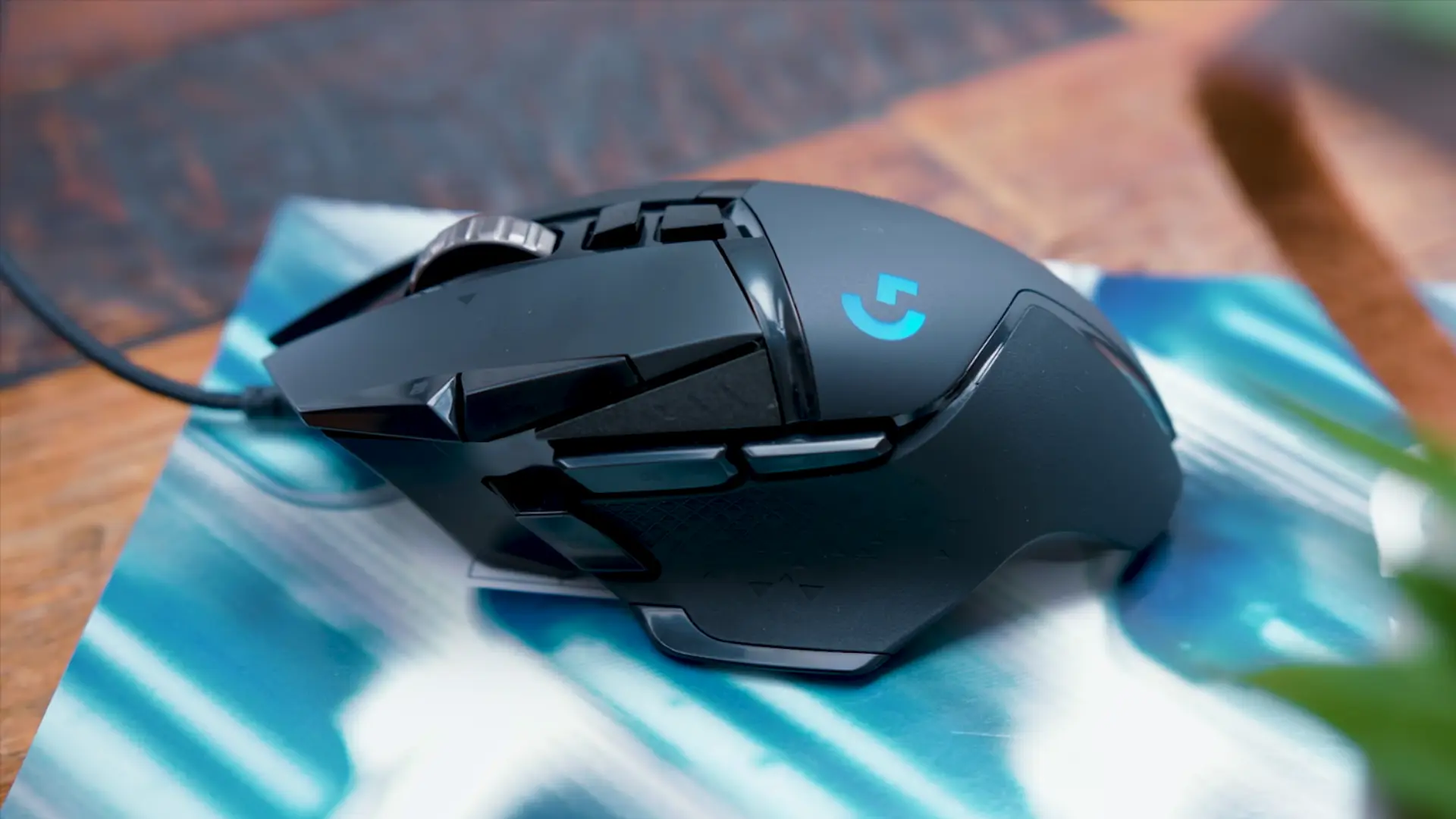 It has a very cool appearance with RGB lightning. Its adjustable weight helps to acquire balance and precision in different tasks. Its latency is as low as 1ms. It has good battery life, making it a top choice for gamers.
PROS
Adjustable weight for balance and accuracy
High resolution
Its USB and wireless latency are only 1 ms
Battery life is up to 60 hrs
It comes with RGB lighting
CONS
Quite Heavy
The large design may be uncomfortable for people with small hands.
Logitech G502 is a wireless mouse with a lot of amazing features. It is a must-have for your gaming laptop if you want to enhance your experience during intense gaming.
---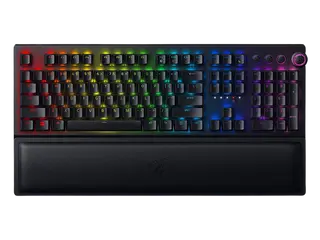 Razer is a popular brand for making gaming laptop accessories. Its Razer Blackwidow V3 gaming keyboard is counted among the best accessories for laptop gaming. It is premium built with a high-quality plastic base and aluminum topcoat. The RGB colors of the keyboard make it more attractive than ever.
Comfortability is the main target while designing this keyboard. The keys are accurately spaced to give good gaming and typing experience. It also has a wrist rest to ensure that you do not feel tired or weary after playing. It is a wireless keyboard, but it is equally good as wired keyboards in terms of functionality.
It can be easily connected to any device, and it supports Bluetooth connectivity to up to 3 devices. It also offers smooth switching between these devices. The keyboard has a long battery life that depends on how much brightness you use with RGB and other keyboard performance.
PROS
Bluetooth support
Comfortable wrist rest
Keys are fingerprint and smudge-proof
Other Media keys are also available
Switches are super smooth
25 hrs battery life
CONS
Performance decline when the battery is low
This is an amazing accessory that you must consider buying. It has software with which it can be programmed. It can be easily paired with any PC or laptop, and many features make it a worthy investment and a good gaming laptop accessory.
---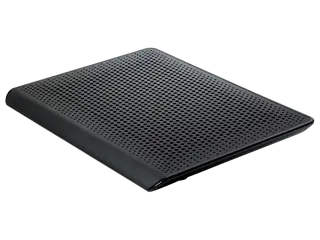 Gaming laptops get heated due to excessive gaming or any heavy-duty work. If this heating is not controlled, it can damage the system of the laptop and its efficiency. Therefore, I have included another gaming must-have, i.e., the Targus cooling mat for a gaming laptop.
I had a great issue with the heating of my gaming laptop because I used to play a lot. I noticed that the performance of my laptop was also affected. Therefore, I decided to buy a good cooling pad. I found Targus robe the best among many available in the market. It has three chilling fans, which are used to cool down the temperature of the gaming laptop. Its maximum speed is 3000 rpm, but it can also be adjusted due to its precision control technology. It is compatible with a gaming laptop and other devices as well.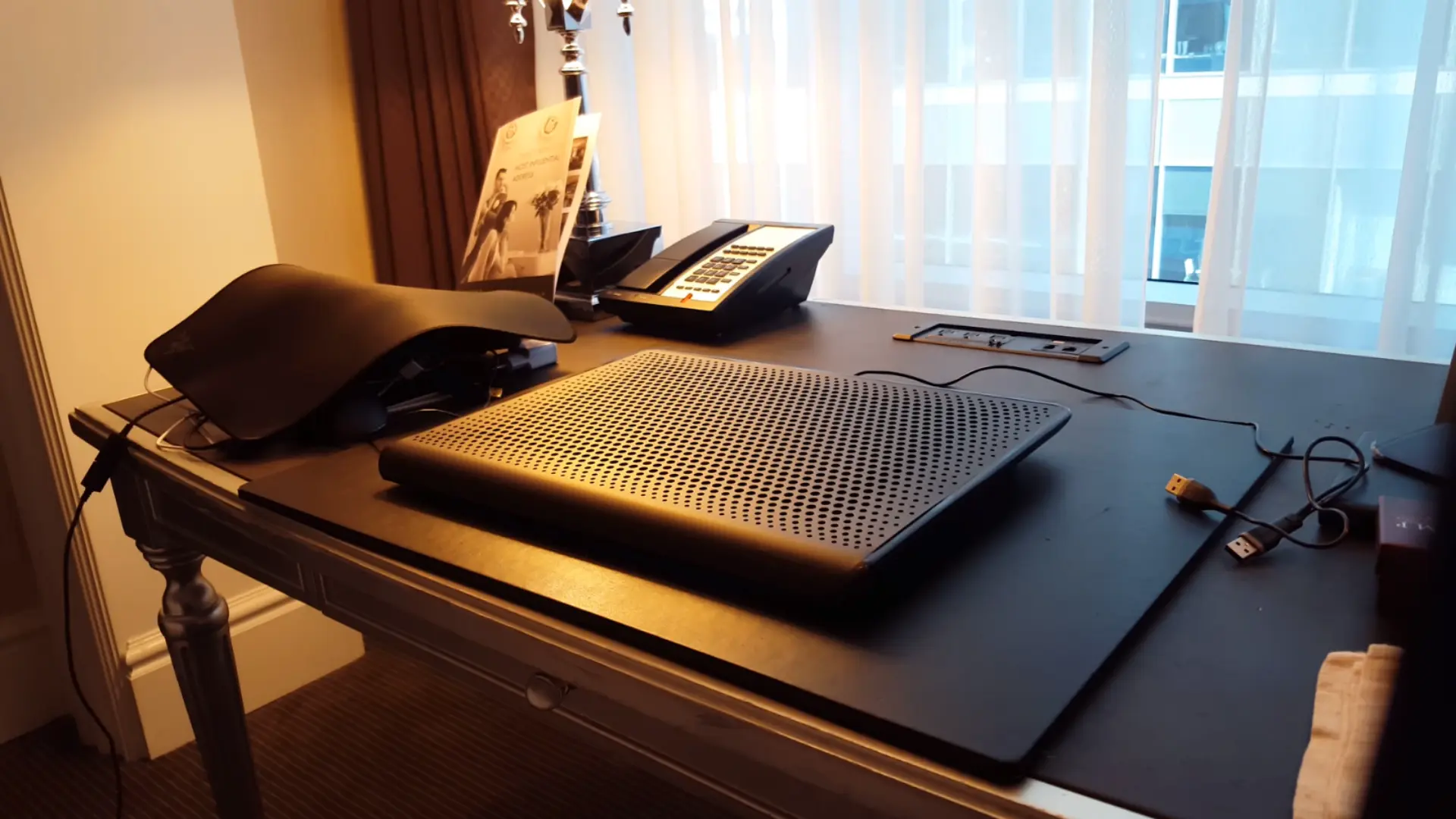 It has ventilated top, which improves heat dissipation. It has a LED power indicator that tells whether the cooling pad is getting charged or not. Its sleek structure and lightweight body are very cool to touch. It has a very strong grip, so it doesn't slip under it when the laptop is placed over it. Laptops up to 18 inches can be placed on them, and they can be efficiently cooled with this high-power cooling fan.
PROS
Three heavy-duty cooling fans
Anti-slip surface for laptop
Aluminum alloy body
LED light indicator for charging
Lightweight
Compatible with up to 18 inches laptop
CONS
After a few months, it starts to get a little noisy.
I consider a cooling mat one of the best accessories a gaming laptop must have because it is essential for decreasing the heating of a gaming laptop so that you can continue playing without any hindrance or decrease in performance for long gaming.
---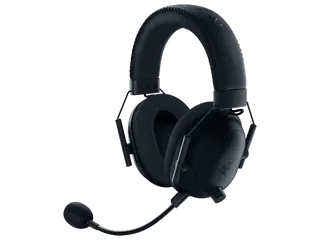 I am very picky when it comes to gaming headsets because of the long hours of gaming. I only prefer a comfortable fit, sweatproof, and lightweight headset. The Razer BlackShark V2 Pro is my new favorite due to its high quality and easy-to-go design.
You should have a cool set of headphones for your cool gaming laptop setup. The BlackShark V2 Pro is a new wireless version from Razer that has accurate and fantastic sound quality with a removable mic and comfortable sweatproof earpads. It is covered in soft foam padding wrapped in faux leather, giving it an attractive appearance.
It has a very low delay rate which gives you accuracy in gaming. Its 40 feet range allows you to play or stream from long distances. It has solid bass in music, and the sound does not distort even at full volume. It gives precise left-right sounds, which help identify footsteps and gunfire around you. Its left earpad has all the controls and a volume dial, making it easy for gamers.
PROS
Powerful sound
Detachable high-quality microphone
Sweatproof comfortability fit earpads
Noise cancellation in audio
Very low latency
24 hrs battery life
CONS
Comparatively expensive to its wired counterpart
I count this Razer headset as an essential for gaming among my best laptop accessories choices. It is a little pricey, but it is worth the money you spend on it as it provides high-quality sounds and a great comfort level, which assist in making your gaming even more thrilling.
---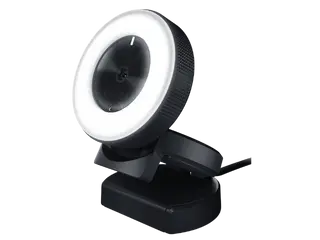 A webcam is another gaming laptop essential because gaming laptops do not come with webcams usually. A webcam can give a high-resolution picture and clear video for content creation, live streaming, or video conferencing. It is an amazing essential as it works in both bright and dark environments. The camera can be easily attached to the screen by its tooth, ensuring a secure connection.
This camera has a circular black disk with dimensions 2.7 x 0.6, and it also features a ring light that may be adjusted to suit the situation. Its audio quality is average, so you can look for alternatives like a mic specifically designed for audio if you consider better audio. It has a USB 3.0 connection, so your laptop must be compatible.
To operate this camera, Razer synapse software is used. It can also customize different settings and video quality. The camera attached to the monitor is also adjustable with its 81.6-degree view. It is a must-have for gamers who want clear and sharp videos as it comes with 1080 p for better image quality.
PROS
Great image quality
It comes with adjustable ring light
Video quality can be customized through Razer Synapse software
Secure connection with the monitor
Best for content creators and live streamers
6-degree view
Razer synapse produces one of the best gaming laptops. When you prefer live-streaming during fierce laptop gaming, a good quality camera is a must to buy. Razer Kiyo streaming webcam comes with easy adjustments, and high video quality is the perfect choice for gamers. Adding a better webcam enhances the subscribers and eventually adds value to your channels.
---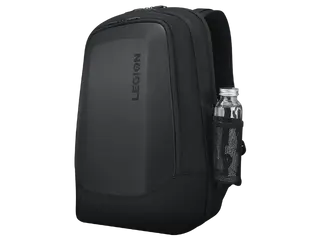 A backpack is also among the gaming must-haves if you are used to traveling a lot but cannot leave your gaming laptop behind. Lenovo legion 17" armor backpack is the best backpack to carry your laptop and other gaming accessories. It is made up of PU fabric that is water-resistant. It is very comfortable to hold and combines durability, convenience, and style.
It has a lot of space on the interior and can hold a laptop up to 17.3 inches. Also, it can handle larger gaming keyboards. It has many perfectly placed compartments and makes everything accessible and in place because it has separate rooms for a mouse, keyboard, headphones, water bottle, and other accessories.
This bag has unbeatable durability because it is made of strong and resistant fabric. It is made to wear with comfort. Its back padding makes it gentle on your back. It also has strips to adjust from your shoulders and waist to fit you best. It especially provides additional protection to the PC compartment by double layering it.
PROS
Separate compartments for all gaming essentials
Stylish outside appearance
Comfortable and spacious interior
Made up of water-resistant fabric
Adjustable straps
Lenovo legion armor backpack takes care of all your gaming accessories while keeping them in place. I count it as the best accessory due to its compactness and how it securely carries everything. It is made up of strong double layered water-resistant fabric with extra padding to ensure that it is comfortable to wear and is also secure for gaming laptops.
---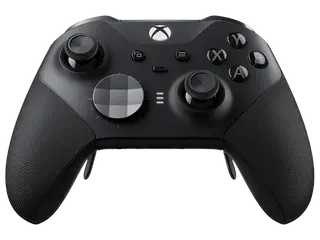 If you are not into mouse and keyboard gaming, you can go wireless with this Microsoft Xbox series two controller. It is a part of a cool gaming laptop setup to get the best experience while gaming. It is made up of premium material, and it has a sleek design. It is easy and gentle on the hands, so you can play for hours without getting weary.
Usually, in a box, you get a controller, 6x thumbsticks, 4x paddles, a set of 2D pads, a Charging Dock, a USB C cable, and a thumbstick adjustment tool in a box. Besides these, it can also be customized into different paddles and thumbsticks according to your preference. You can change these parts considering your comfort and stability while gaming.
The good thing about this controller is that it costs you less than the combined cost of both keyboard and mouse. It has an amazing battery life of 40 hrs, so you can play for hours without getting worried that its battery will die. Also, it has a super-fast charging speed which takes only 2 hours to charge it completely. Its knobs and sticks give you proper control to play smoothly around and the perfect aim for your target.
PROS
Most affordable Xbox controller
Comfortable long hours of play
Smooth and stable controls
Interchangeable thumbsticks and paddle
Fast charging and long battery life
Bluetooth connection and USB C cable
CONS
A little heavier
Some keys start to stick after some months of use.
Gaming controllers are the best gaming laptop accessories if you are not a keyboard and mouse person. It offers you smooth controls and is comfortable to play for long hours. The Microsoft Xbox elite controller provides superior construction and sleek design at an affordable price. Investing money in this improves your gaming.
---
Buying Guide
Laptop gaming is one of the favorite past times of many youngsters. Buying a good gaming laptop is not enough for great gaming, so to enhance your play, accessories are a game-changer. I have compiled some of the cool must-haves in 2022, but what are the best gaming laptop accessories for you? You must comprehend this on your own. First, you need to know which item is missing or should be upgraded in your gaming laptop. This will help to save money on wasting on any useless item.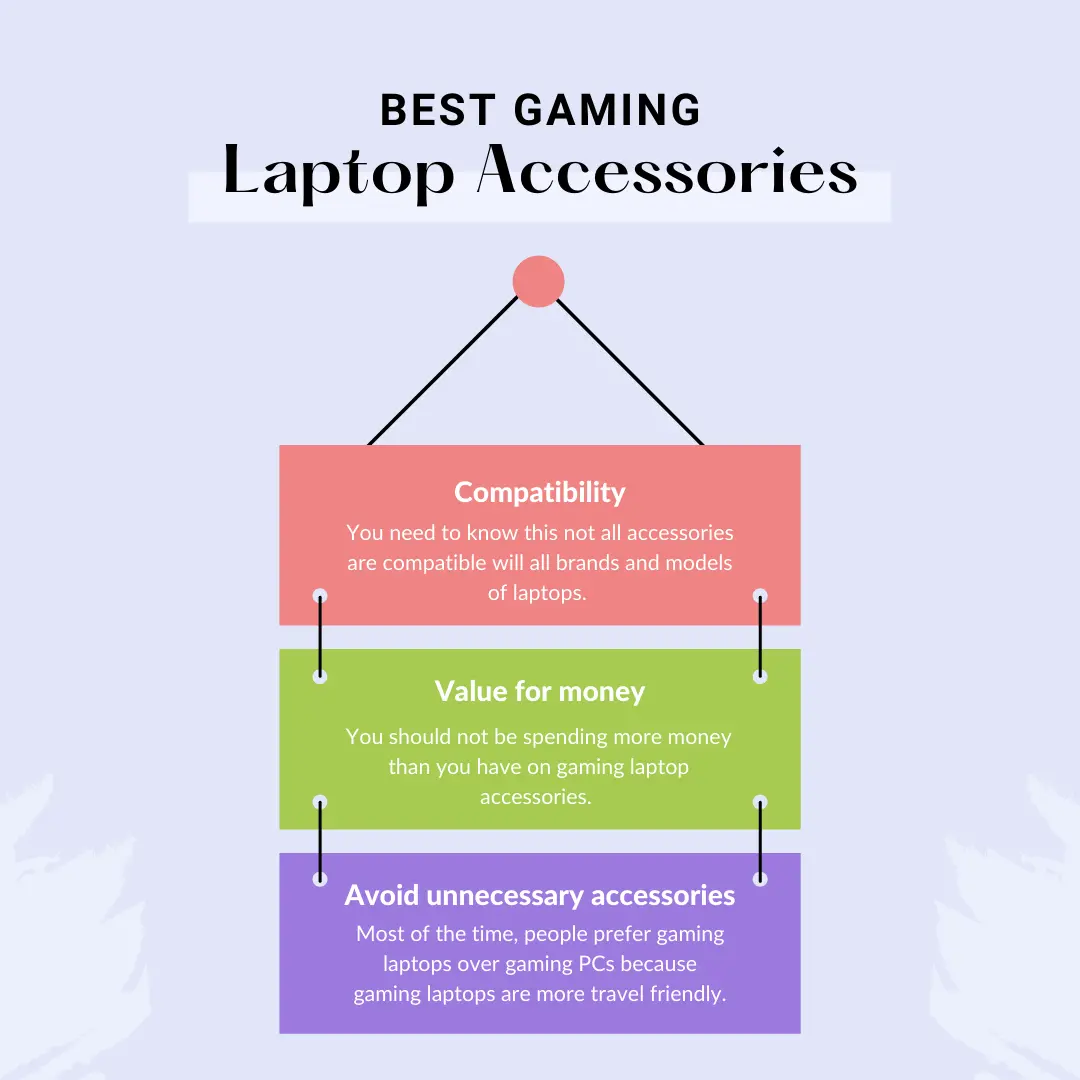 Compatibility
You need to know this not all accessories are compatible will all brands and models of laptops. You need to understand the connectivity type of that accessory and if that jack or port is available on your laptop or not. Also, many wireless accessories work with their respective software, ask the seller which windows it supports and which type of laptop it is compatible with.
Value for money
You should not be spending more money than you have on gaming laptop accessories. Always look for those products that fit perfectly in your price and range, and they are also good in their respective features.
Avoid unnecessary accessories
Most of the time, people prefer gaming laptops over gaming PCs because gaming laptops are more travel friendly. So, if you travel a lot and need to carry your gaming laptop backpack with you, you must avoid any unnecessary accessories. They make you bear extra weight without being useful.
FAQ's
1-What are the best accessories for my gaming laptop?
There are many accessories available these days, and they all help improve gaming in one way or another. However, the main accessories that you must have with your laptop are a good gaming mouse, gaming keyboard, cooling pads, and gaming headset. These accessories make you experience top-notch quality in gaming.
2-Why do I need a mouse with gaming laptops?
You cannot simply play heavy-duty games with a laptop touchpad. The gaming mouse is very important to get a better hold and control over your actions in gaming. You cannot get this control from the touchpad.
3-What are cooling pads, and how to find the best one for my laptop?
The purpose of the cooling pad is to cool down the temperature of the laptop that is heated up by excessive gaming. This heating can affect the laptop's efficiency, and it can also cause damage to the battery and other components.
The cooling pads keep the temperature of the laptop as low as possible. To find the best cooling pads, check the speed of the fans. The diameter of the fan also affects the performance. The size of the cooling pad must be equal to the size of the laptop to perform adequately.
Final Verdict
There are so many luxury gaming accessories now manufactured by different companies, so choosing the one you need might be difficult. It also depends on whether you are looking for an essential accessory or just for having a luxury item. My preferences among the accessories that are mentioned above are:
Logitech G502 Lightspeed Wireless Gaming Mouse
Razer Blackwidow V3 Pro Gaming Keyboard
Targus HD3 chill mat for gaming laptops
However, it depends on how you want your gaming experience and which accessory will suit your needs. This is all from my side. I hope you are now sure which are the best accessories for a gaming laptop. Whatever you choose for yourself, make sure that it leads your gaming journey to the fullest enjoyment.